October 2: World Day for Farmed Animals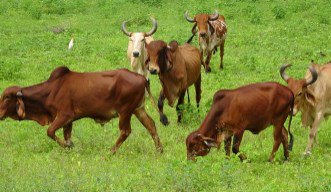 Every year, the World Day for Farmed Animals is celebrated by the International Animal Welfare Organization, Asia for Animals Coalition and World Animal Protection. The day is celebrated to bring in awareness in treating animals as sentient beings and make visible the urgency and importance of farm animal welfare.
India joined the other Asian countries to celebrate the day under Asia for Animals Coalition grouping. Asia for Animals consists of 23 animal welfare organizations that are focused on improving welfare of animals in Asia.
About the Day
The day is celebrated on the birth anniversary of Mahatma Gandhiji as he was an animal lover. It is organised by FARM (Farm Animal Rights Movement) since 1983.
Need
Poor treatment of farm animals and intensive animal farming pose pandemic level threat to humans. It also depletes the health of animals. The diseases such as bird flu, swine flu and Nipah virus emerged from farm animals. Therefore, it essential to treat farm animals with utmost care and keep them clean and healthy.
Around 40 billion chickens are severely affected due to intensive farming models globally. On the other hand, more than 50 million dairy animals are farmed for milk in substandard conditions. The day creates awareness about the drawbacks of such treatment.
Every year 65 billion animals are killed to produce meat, diary and eggs. Most of these animals are confined and mutilated to grow large in a short period of time.
Livestock Census
The Livestock Census in India is conducted once every five years since 1919-20. The Ministry of Fisheries, Animal Husbandry and Dairying conducts the census. It covers all the domesticated animals. So far 19 such censuses have been conducted in India. The Key Findings of the 20th Livestock Census released in November 2019 are as follows
The total Livestock population of India has increased by 4.6% as compared to Livestock Census 2012. Currently, the total Livestock Population in India is 535.78 million
The total number of cattle in India has increased by 0.8%
The population of cross bred cattle has increased by 27%. Currently, the cross bred animals contribute to 28% of milk production of India
The indigenous cattle population has declined by 6%
The milch animals have increased by 6%
Backyard Poultry has increased by 46%
Related Posts
Month: Current Affairs - October, 2020
Category: Important Days & Events Current Affairs
Topics: Dairy • Livestock • livestock census • Livestock Health & Disease Control scheme • poultry • world day of farmed animals
Latest E-Books