NPA of commercial banks increased by around 4%: Government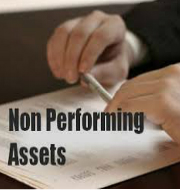 The Union Government has announced that the Non-Performing Assets (NPA) of commercial banks have increased by around 4% in the last one year (March 2015 to March 2016).
It was announced by Union Minister of State for Finance (MoS) Santosh Gangwar in a written reply to the Rajya Sabha.
Key facts
The NPA of banks was 5.43 percent in March 2015 which has risen to 9.32 percent in March 2016.
The high incidences of NPAs are mainly related to power, road, steel, textiles and other sectors.
NPA amounts are related to 417 stalled infrastructure projects where public sector banks have invested is over 66478 crore rupees.
Union Government has taken several steps to revive these stalled projects. Besides, the Reserve Bank of India (RBI) has also issued guidelines for restructuring of loans.
What are Non-Performing Assets (NPA's)?
NPAs (also called non-performing loans) are loans made by a bank or finance company on which repayments or interest payments are not being made on time.
The loan is considered to be a NPA once the borrower fails to make interest or principal payments for 90 days.
In case of Agriculture/Farm Loans, the NPA varies for of Short duration crop loan (interest not paid for 2 crop seasons), Long Duration Crops (interest not paid for 1 Crop season).
Thus, NPA is any asset of a bank which is not producing any income. It affects the profitability & liquidity of the banks.
It adversely affects the value of bank in terms of market credit and widens assets and liability mismatch.
It results in inflating the cost of capital for economic activities and banks may charge higher interest rates on some products to compensate NPAs.
Month: Current Affairs - August, 2016
Topics: Banking • National • NPAS • Rajya Sabha
Latest E-Books