Nation celebrates Gandhi and Shastri Jayanti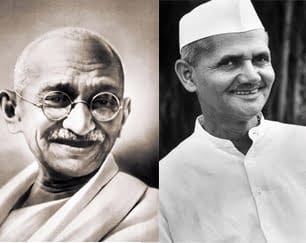 On 2 October 2014, India celebrated the birth anniversaries of two of its greatest leaders and freedom fighters, Mahatma Gandhi and Lal Bahadur Shastri, on October. Multiple events across the nation were held in remembrance of the two leaders. Various schools and institutions conducted events and functions to commemorate the day. Politicians paid their respects to Gandhi and Shastri at Raj Ghat and Vijay Ghat respectively.
Swachh Bharat Abhiyan
A cleanliness drive under the Swachh Bharat Abhiyan was launched by the PM Narendra Modi. This also marks the launch of the programme itself. Many cleanliness drives across the nation were organized under the programme. Cleanliness pledges were taken by people over the country, including the PM.
 Lal Bahadur Shastri
2014 marks the 110th birth anniversary of Shastri. He was an active participant in the Indian freedom struggle since 1920. He also has the distinction of being the second PM of India, when he took over after the untimely demise of Jawaharlal Nehru. HE has also been Minister of Home Affairs and Minister of External Affairs. He is most famous for his slogan, 'Jai Jawaan, Jai Kisan'. He revolutionized the agricultural sector during his tenure. He also oversaw the florishing of the Amul Co-operative which heralded a White Revolution in the country. He led the country successfully through the 1965 war with Pakistan. He passed away on January 11, 1966, just after signing the Tashkent Pact. He was posthumously conferred the Bharat Ratna.
 Mahatma Gandhi
2014 marks the 145th birth anniversary of Gandhi. Gandhi was one of the main leaders in the Indian national movement fighting for freedom from the British. A lawyer by profession, Gandhi had been educated in the UK and had a practice in South Africa before returning to India. The date of his return to India is celebrated as Pravasi Bharatiya Divas to acknowledge the large Indian expatriate community spread across the world. Gandhi's methods, that involved non- violence, non co-operation and civil disobedience, found mass appeal in India.  He also criticized practices such as untouchability. He is considered by most Indians to be the father of the nation. He was assassinated in January 1948.
Month: Current Affairs - October, 2014
Topics: Current Affairs - 2017 • Days and Events • Lal Bahadur Shastri • Mahatma Gandhi • Narendra Modi
Latest E-Books