Nari Shakti: Hindi Word of the Year 2018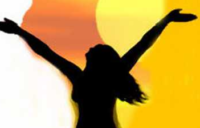 The word Nari Shakti is chosen as the word of the Year 2018 by the Oxford dictionaries. The announcement regarding this was made in the Jaipur Literature Festival (JLF).
Why Nari Shakti was chosen as word of the year?
The Oxford dictionaries have cited following reasons for choosing Nari Shakti as word of the year:
There was a large spike in the use of word Nari Shakti in March 2018 around the Government of India's Nari Shakti Puraskar (Women Power Award) held on the International Women's Day.
Two major decisions of the Supreme Court contributed to Nari Shakti's prominence in 2018. One was a ban on 'triple-talaq' and second, the taking down of a rule that disallowed menstrual women entry to the Sabarimala temple in Kerala.
The Word Nari Shakti derived from Sanskrit symbolises women who are capable to take charge of their lives. The word Nari Shakti encapsulates the spirit of our times, with all its struggles, challenges, and triumphs.
2017 Word of the Year

In 2017 Oxford dictionaries for the first time had announced the Hindi word of the year. Aadhaar was declared as the word of the year in 2018.
Jaipur Literature Festival (JLF)
Jaipur Literature Festival is described as the greatest literary show on Earth. JLF brings together a diverse mix of the world's greatest writers, thinkers, humanitarians, politicians, business leaders, sports people and entertainers on one stage to champion the freedom to express and engage in thoughtful debate and dialogue.
The Jaipur Literature Festival set against the backdrop of Rajasthan's stunning cultural heritage and the Diggi Palace in Jaipur is a flagship event of Teamwork Arts.
Category: Art & Culture Current Affairs
Topics: Aadhaar • Hindi Word of the Year 2018 • International Women's Day • Jaipur Literature Festival • Nari Shakti • Nari Shakti Puraskar • Sabarimala temple • Triple Talaq
Latest E-Books