Ministry of Home Affairs approves restructuring of CRPF cadre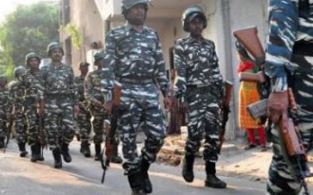 The Union Ministry of Home Affairs has approved a major cadre restructuring of general duty staff of Central Reserve Police Force (CRPF). The restructuring will benefit 2.37-lakh troops by ensuring faster promotions and monetary benefits.
Cadre Restructuring
The restricting will result in a 100 per cent jump in sanctioned strength for the rank of sub-inspector (SI), 91 per cent for inspector ranks, 40 per cent for head constable and 34 per cent for assistant sub-inspector (ASI) ranks.
The increased sanctioned strength will result in the total sanctioned posts in the subedar major or inspector ranks increasing to 6,271 (91 pc) and it will be doubled to 17,403 in the rank of SI.
This cadre review will aid in addressing the carrier stagnation faced by 2.37-lakh personnel of Group B and C, from constable to inspector ranks.
This anti-stagnation cadre restructuring will motivate the personnel to be fitter which is vital criteria for the promotion of those in uniformed services.
This cadre restructuring will be a huge motivating factor for the 3-lakh personnel who are usually deployed in anti-Naxal operations, counter-terrorism offensives in the Kashmir Valley and responding to law and order duties across the country.
Central Reserve Police Force
The Central Reserve Police Force (CRPF) is the central police force of India for maintaining internal security. It was constituted as the Crown Representative Police in 1939 and it is one of the oldest Central paramilitary forces. It was renamed as Central Armed Police Force in 1949.
The restricting of the CRPF lower cadre has been approved for the first time since its formation in 1939.
Topics: Central Armed Police Forces • Central Reserve Police Force • India in World War II • Law enforcement agencies • Law enforcement in India • Naxalite • Sub-inspector
Latest E-Books