Minimum Support Prices for all Rabi crops increased by CCEA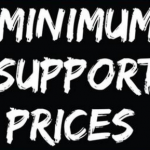 The government has increased the minimum support price (MSP) for all rabi crops of 2016-17 to boost the output of rabi (winter-sown) crops and check prices. The decision was taken by the Cabinet Committee on Economic Affairs (CCEA), chaired by the Prime Minister.  Further, to incentivize cultivation of pulses and oilseeds, a bonus on these crops over MSP has been announced.
Accordingly, MSP price per quintal of Wheat has been increased by Rs 100 and pulses by up to Rs 550. Similarly, MSPs for barley, gram, masur, rapeseed/mustard, and safflower has also been increased. This is to reduce the country's dependence on imports and to keep prices under control. The Ministry of Agriculture has proposed the support price per quintal of gram and masur at Rs. 4,000 each including the bonus for the rabi season.
MSP
Minimum Support Price is the price at which government purchases crops from the farmers. The MSP is announced by the Government of India at the beginning of each season viz. Rabi and Kharif.
The government takes the decision to increase MSPs based on the recommendations of Commission for Agricultural Costs and Prices (CACP).
CACP is an expert body which recommends MSPs after taking into account various factors like cost of production, overall demand-supply, domestic and international prices, inter-crop price parity, trading terms between agricultural and non-agricultural sectors, the expected effect of the price policy on the economy etc. It also ensures rational utilization of production resources like land and water in the country. Usually, the recommendations of CACP are accepted as such by the government.
Topics: Agricultural Union • Agriculture • Bhavantar Bhugtan Yojana • CACP • Commission for Agricultural Costs and Prices • Economy • Industries • Member of the Scottish Parliament • Minimum support price • Rabi crop
Latest E-Books