Maldives Parliament impeaches Vice President Ahmed Adeeb Abdul Ghafoor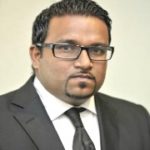 Maldivian Parliament Majlis has voted overwhelmingly to impeach Vice President Ahmed Adeeb Abdul Ghafoor in an extraordinary sitting.
Impeachment motion: 61 parliamentarians of Majlis out of the total 85 present, voted in favour of the motion more than 57 votes required to impeach the Vice President. The main opposition group Maldivian Democratic Party (MDP) remained abstained in voting.
Background
Adeeb is the second Vice President to be impeached in Maldives after impeachment of his predecessor Mohamed Jameel since June 2015.
He has been charged with plotting to assassinate the President Yameen Abdul Gayoom in an explosion on his speedboat on September 2015.
The political crisis in the island nation has intensified recently, after President Yameen had declared national emergency for one month.
For treason, Adeeb Gayoom will be tried under Maldivian government's recently passed tough terrorism law. If found guilty, he could face up to 25 years in jail.
Several countries including United States, United Kingdom and international human rights groups have urged the Maldives government to end the national emergency.
Maldives
Maldives is comprises 1192 small tropical coral islands in Indian Ocean with a population of around 3.4 lakhs, mainly Sunni Muslims. Its economy is mainly based on tourist trade and is better known for its beaches and luxury island resorts. The country had a difficult transition to democracy since holding its first multiparty election in 2008 and since then it is facing numerous political crisis .
Month: Current Affairs - November, 2015
Topics: Adeeb Abdul Ghafoor • International • Maldives • Maldives Crisis
Latest E-Books