Lok Sabha passes Aadhaar (Target Delivery of Financial and Other Subsidies, Benefits and Services) Bill, 2016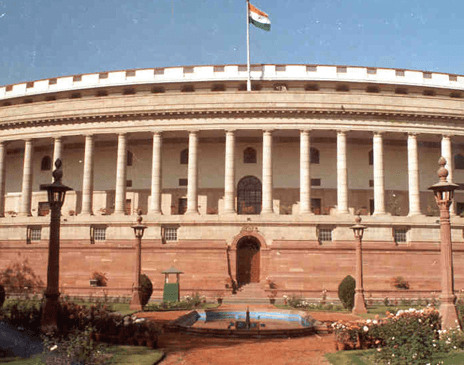 Lok Sabha has passed the Aadhaar (Target Delivery of Financial and Other Subsidies, Benefits and Services) Bill, 2016 by voice vote. It was introduced as Money Bill.
The Bill is aimed at giving statutory backing for transferring government subsidies and benefits to targeted people by assigning them Aadhaar numbers i.e. unique identity numbers.
With this, government plans to plug leakages in disbursal of subsidies and other services and in ensuring that these reach intended beneficiaries.
Key features of Bill
Eligibility: Every resident who has resided in India for 182 days in the one year preceding the date of enrolment application shall be entitled to obtain an Aadhaar number.
Information to be submitted: Individual has to submit his (i) demographic (name, address, date of birth) information. (ii) biometric (finger print, iris scan, photograph).
Other biometric and demographic information can be collected as per regulations of the Unique Identification Authority (UID)
Use of Aadhaar number: (i) Verifying the identity of a person receiving a subsidy or a service. (ii) as a proof of identity of the Aadhaar number holder for any purpose asked by any public or private entity. (iii) It cannot be a proof of citizenship or domicile.
Key functions of UID: (i) assigning Aadhaar numbers to individuals (i) specifying demographic and biometric information to be collected during enrolment (iii) specifying the usage of Aadhaar numbers for delivery of subsidies and services and (iv) authenticating Aadhaar numbers.
Composition of UID: It will consist of a chairperson, 2 part-time members and a chief executive officer (CEO).
The chairperson and members must have experience of at least 10 years in matters such as governance, technology etc.
Authentication record maintained by UID authority: The UID will be the nodal authority that will record the entity requesting verification of a person's identity, time of request and the response received by the entity. The purpose of identity verification will not be maintained.
Protection of information: Biometric information will be used only for Aadhaar enrolment and authentication and for no other purpose. Such information will not be shared with anyone, nor displayed publicly, except for purposes specified by regulations.
Cases when information may be revealed: In two cases (i) information may be revealed in the interest of national security (ii) On the order of a court.
Offences and penalties: For unauthorised access to the centralized data-base and revealing any information stored in it, a person may be punished with imprisonment upto 3 years and minimum fine of Rs 10 lakh.
If enrolling agency and requesting entity fail to comply with rules, they shall be punished with imprisonment upto 1 year or a fine upto Rs 10,000 or Rs one lakh or with both.
Cognizance of offence: Only on a complaint made by the UID authority or a person authorised by it, court will cognizance of any offence.
Month: Current Affairs - March, 2016
Topics: Aadhaar • Bills and Amendments • Current Affairs 2016 • Lok Sabha • UID
Latest E-Books