Italy's Volcano Mount Etna erupts on Island of Sicily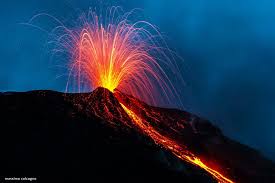 Europe's Highest Volcano Mount Etna, in southern Italy erupted with burst into life, spews ash, fire, and spitting molten lava high into sky.
Key Highlights
This is 2019's first eruption as the volcano on island of Sicily previously erupted in December 2018.
The lava came from two eruptive fissures on northeastern and south-southeastern sides of Mount Etna's New Southeast Crater. Mount Etna burst into life, spitting molten lava high into sky.
Italy's National Institute of Geophysics and Vulcanology (INGV) reported the lively spattering after volcano erupted and as fire and hot ash spewed high into sky which later slowed slightly but still posed risk to climbers. It also reported that latest lava show did not pose any problems for nearby residential areas or for flights at closest airport at Catania.
About Mount Etna
With an elevation of 3,326 m (10,912 ft), it is the highest peak in Italy (south of Alps) and is the highest active volcano in Europe outside the Caucasus.
It is also the largest of the three active volcanoes in Italy, other being Mount Vesuvius, near Naples and Mount Stromboli, one of the Aeolian Islands. It is about 2.5 times the height of the next largest, Mount Vesuvius.
It is an active stratovolcano and is located on the east coast of Sicily, Italy, in the Metropolitan City of Catania.
The United Nations has designated Mt. Etna as a Decade Volcano due to its history of recent activity and nearby population.
In June 2013, it was added to the list of The United Nations Educational, Scientific and Cultural Organization (UNESCO) World Heritage Sites.
Month: Current Affairs - June, 2019
Topics: Aeolian Islands • Alps • Caucasus • Decade Volcano • Mount Etna • Mount Etna Eruption • Mount Stromboli • Mount Vesuvius • National Institute of Geophysics and Vulcanology • UNESCO World Heritage Site • Volcano Eruption
Latest E-Books