India's Tajamul Islam wins World Kickboxing Championship Gold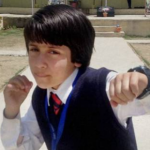 On November 15, 2016, Tajamul Islam, an eight year girl from Bandipora district of Jammu & Kashmir has won World Kickboxing Championship in Italy becoming first ever Indian to win a gold medal in sub-junior category. In the five day world championship, Tajamul won six games attracting attention across the world. She defeated her rival from United States to become world champion in Kickboxing. She had participated in the event with support from Kickboxing Federation of India.
About Kickboxing
Kickboxing is a combat sports based on kicking and punching. It is a blend of boxing and Karate. Kickboxing is a famous sports not only in United States but also in South East Asia where it thrives in various forms such as Pradal Serey in Cambodia, Lethwei in Burma, Yaw Yan in Phillipines and Muay Thai in Thailand.
Topics: Combat • Combat sports • Individual sports • Kickboxing • Lethwei • Mainland Southeast Asia martial arts • Muay Thai • Pradal serey • Sports • Yaw-Yan
Advertisement