Indian Royal Jelly- Key Facts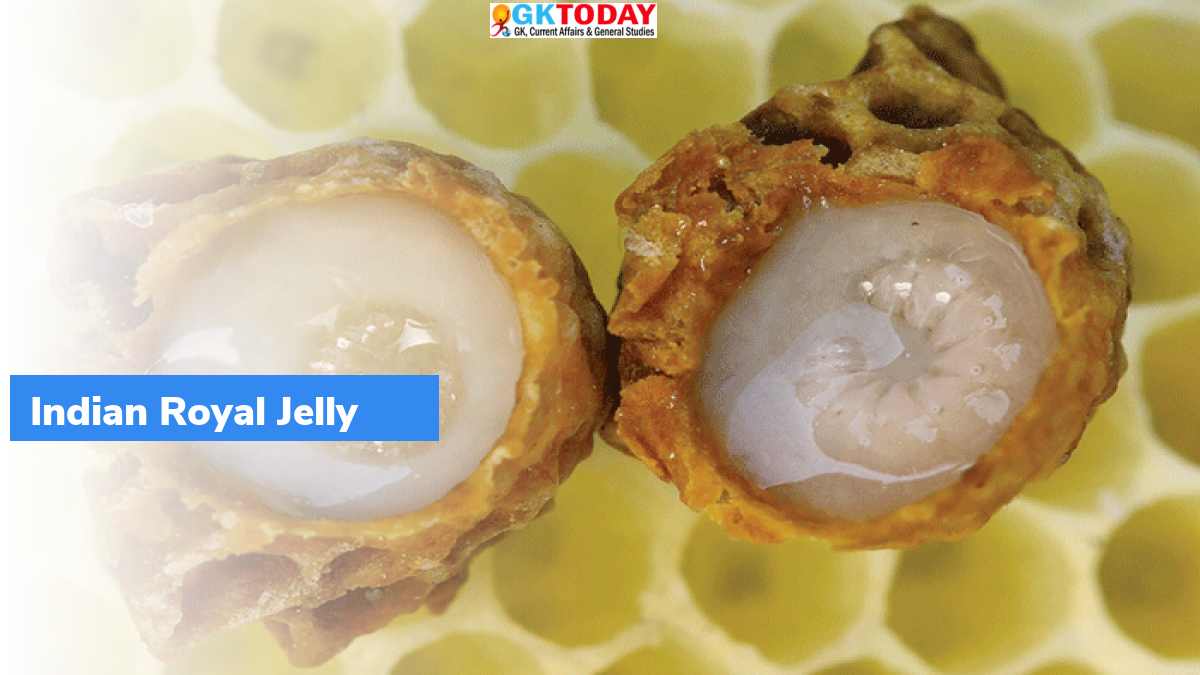 According to Pune-based researchers, Indian Royal Jelly was found to surpass top-quality sellers like produced in Thailand and Taiwan.
Highlights
Royal Jelly are known for being a good antioxidant. It helps women with fertility issues.
Indian Royal Jelly meets the ISO-prescribed standards prescribed by Food Safety and Standards Authority of India (FSSAI) in 2019.
India did not have any set standards for its royal jelly before 2019 when FSSAI imposed ISO standards.
What is Royal Jelly?
Royal Jelly is a pearl white or pale yellow-coloured cohesive mixture of honey and secretions from hypopharyngeal & mandibular glands of worker honeybees. It comprises of 60-70 percent moisture or water, 1-10 percent lipids, 0.8-3 percent minerals, 9-18 percent proteins, 7 percent sugar etc. It is used as food for young larvae and adult queen honeybees.
How it is produced?
Royal jelly is produced artificially by encouraging bee colonies to produce queen bee, that is grown outside its natural habitat. Larvae in the queen cells are fed with royal jelly. It is harvested when maximum amount gets accumulated on the larva turning 5 days old.
Extraction of royal jelly
Extraction of royal jelly is done with the help of manpower who are specially trained in extraction and excellent larvae grafting skills.
Storage of Royal Jelly
Royal jelly is stored at sub-zero temperatures just after production, during packaging as well as consumer's end. Preferred temperature to store fresh royal jelly is below –20 degrees Celsius. In order to remove the moisture, Freezee drier  (a special machine) is required. India currently has three machines, which were imported from Germany.
Month: Current Affairs - September, 2021
Category: Economy & Banking Current Affairs
Topics: Extraction of royal jelly • Food Safety and Standards Authority of India (FSSAI) • Freezee Drier • Indian Royal Jelly • Larvae • Queen Honeybees
Latest E-Books