India to provide four million US dollars for rebuilding the Gaza Strip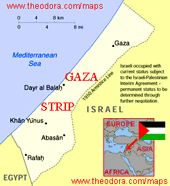 At the International Gaza Donor Conference in Cairo, India pledged to donate US $ 4 mn in aid to rebuild Gaza Strip. The Conference is to raise money for rebuilding efforts in Gaza after its latest 50 day war with Israel.
Presentation by Palestinian Authority
The Palestinian Authority presented a 76 page long National Early Recovery and Reconstruction Plan at the Conference. The Palestinians asked for US $ 4 bn, with most of the funds being spent on reconstruction efforts and building housing for the people, according to its Plan.
Total Donations
The donors raised a total US $ 5.4 bn, with 2.7 bn dedicated to rebuilding efforts. The funds are expected to reach Palestine within three years.
The largest donor is Qatar with US $ 1 bn. USA has pledged US $ 212 mn for immediate assistance.  EU pledged US $ 568 mn. Regional players, Turkey and UAE, pledged US $ 200 mn each.
Utilization of funds
The funds will be funneled through the Palestinian Authority. Hamas will have no role to play. Most of the funds are expected to spent under the aegis of various UN bodies. UN already has plans for approximately US $ 2.1 bn of the funds, with $ 1.6 billion going to UNRWA (United Nations Relief and Works Agency for Palestine Refugees in the Near East) and the rest to other UN agencies working towards different things in Palestine.
India's prior assistance to Palestine
India has played an active role in the betterment of Palestine and its people and the basis on which a strong Indo-Palestine partnership has been built. India directly provides budgetary, economic and developmental assistance to Palestine and is active in the areas of capacity development, education and information technology.
Other than this, India is also a part of multilateral efforts to help Palestinians. A slew of developmental projects are being implemented under the IBSA (India-Brazil-South Africa) Fund in Palestine. An important future IBSA project is the reconstruction of the Atta Habib medical centre in Shujiyaa in Gaza with a cost of US $ 1 mn.  Also, India has already been contributing US $ 1 mn annually to the UNRWA to enable the supply of food and medicines to Gaza.
Month: Current Affairs - October, 2014
Topics: Gaza Strip • IBSA • israel • Palestine
Latest E-Books