India-Israel joint venture LRSAM missile successfully tested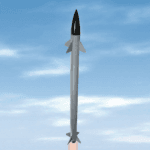 Long Range Surface-to-Air Missile (LRSAM) co-developed by India and Israel, was successfully test-fired from a range in Israel. The test fire was carried by Israel Aerospace Industries (IAI) in the presence of DRDO scientists and officials of the Indian Armed Forces.
The successful test marked a milestone in bilateral cooperation of the two countries in developing advanced weapon systems.
Test: The missile successfully intercepted a maneuvering target mimicking an attacking combat aircraft. The test also validated all the elements related to the naval and land-based variants of the missile including the phased array radar, battle management system, communications and the interceptor.
Importance of Long Range Surface-to-Air Missile (LRSAM)
LRSAM will be deployed on the newly commissioned INS Kolkata, which had to be inducted without the weapon system due to delays in testing.
It would also be deployed on other naval ships including recently commissioned INS Kamrota.
About Long Range Surface-to-Air Missile (LRSAM)
LRSAM is called Barak 8 missile in Israel. Barak is the Hebrew word for Lightning.
It is designed to counter a wide variety of air-borne threats such as anti-ship missiles, aircraft, UAVs and drones as well as supersonic cruise missiles.
Barak 8 is an advanced, long-range missile defence and air defence system with main features being:
Long Range
Active Radar Seeker Missile
Vertical Launch
Multiple Simultaneous Engagements.
Month: Current Affairs - November, 2014
Topics: India-Israel
Latest E-Books