India declares itself free from Avian Influenza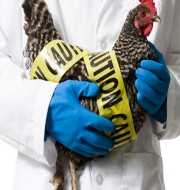 India has officially declared itself free from highly contagious Avian Influenza (H5N1) or bird flu and has notified the same to the World Organization for Animal Health (OIE).
It was announced by the Department of Animal Husbandry, Dairying and Fisheries in the Union Ministry of Agriculture and Farmers welfare.
This announcement was made as no outbreak of Avian Influenza (H5N1) was reported in the country after the last notified outbreak at Humnabad, Bidar district, Karnataka in June 2016.
Various control measures adopted
Stamping out of entire poultry population including destruction of eggs, litter, feed and other infected materials.
Restriction on movement of poultry and poultry products from area of outbreak. Cleaning up and disinfection of infected premises and the Post Operation Surveillance Plan (POSP).
Surveillance was carried out throughout the country around the areas of the outbreaks since completion of the operation.
Post the surveillance has shown no evidence of presence of Avian Influenza.
However, Union Government has emphasized that their need for continued surveillance especially in areas visited by migratory birds and vulnerable areas bordering infected countries.
About Avian influenza (AI)
AI commonly called bird flu is an infectious viral disease of birds and is zoonotic disease.
It is an infectious viral disease of birds and can sometimes spread to domestic poultry and cause large-scale outbreaks of serious disease.
AI viruses are divided into 2 groups based on their ability to cause disease in poultry:
(i) high pathogenicity: Viruses result in high death rates up to 100% mortality within 48 hours in some poultry species.
(ii) Low pathogenicity: Viruses are not generally associated with severe disease but causes outbreaks in poultry.
Human Infections: Most avian influenza viruses do not infect humans however A(H7N9) and A(H5N1) virus strains have caused serious infections in people.
However, infections in humans have been associated with direct or indirect contact with infected live or dead poultry.
Note: There is no evidence that the disease can be spread to people through properly cooked food. Controlling the spread of disease in animals is the first step in decreasing risks to humans.
Month: Current Affairs - September, 2016
Topics: Avian influenza • Diseases • H5N1 • National • Public health
Latest E-Books