India-Canada hold Strategic Dialogue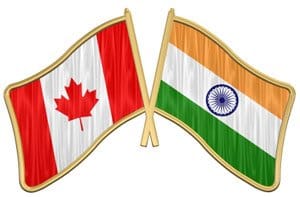 The second India-Canada Strategic Dialogue was held in New Delhi on October 14. The dialogue was co-chaired by Indian External Affairs Minister Sushma Swaraj and Canadian Foreign Affairs Minister John Baird.  Baird who is on a five day visit, also met PM Modi and discussed various bilateral matters.
PM Modi is set to meet the Canadian PM Harper in Australia, on the sidelines of the G-20 summit.
Strategic Dialogue
At the meeting, the two sides discussed a variety of bilateral issues including but not limited to defence, energy, nuclear cooperation, counter-terrorism, global and regional security.  The two countries are also working towards early conclusion of the Comprehensive Economic Partnership Agreement (CEPA) and Bilateral Investment Promotion and Protection Agreement (BIPPA).
The Strategic Dialogue between the two countries was first conceived in 2012 during the Canadian PM Harper's visit to India. The first strategic dialogue was held in 2013 in Toronto
Nuclear Cooperation
As an outcome of the Strategic Dialogue, India and Canada are negotiating commercial contracts for the supply of uranium to Indian nuclear reactors. Also the two countries plan to cooperate in order to jointly build nuclear reactors with a higher capacity. Also, the two countries will jointly host a nuclear security workshop in India with around 15 countries. This is the first of its kind meeting that India would organize with another country
Skill Development
India will collaborate with Canada to improve its knowledge base in the arena of skill development. This cooperation would mostly be in the hydrocarbon and water management sectors.
Cooperation in oil and gas industry
The two countries agreed to cooperate in the fields of oil and gas. The investment opportunities in British Columbia, especially in natural gas, was highlighted by the Canadian side.
 Delegations
During the visit, different Canadian delegations will target different areas of co-operation with India.  Canadian International Trade Minister Ed Fast will lead a six day and three city trade mission to Mumbai, Delhi and Chandigarh to boost Indo-Canada trade and investment partnerships. The Canadian delegation is expected to be accompanied by representatives of 14 Canadian organizations, including small and medium sized enterprises, which are looking for opportunities to export to India.
Canadian Parliamentary Secretary Deepak Obhrai will lead a delegation of representatives of six Canadian organizations to Jaipur, Hyderabad and Mumbai to strengthen bilateral relations in regional security, education and trade.
Bilateral Trade
India is a priority market for Canada under its Global Markets Action Plan. Since 2010, Canada's bilateral trade with India has increased 38% to $5.8 bn.
Month: Current Affairs - October, 2014
Topics: Bilateral Relations • Canada • Civil Nuclear Cooperation • Current Affairs - 2017 • India • India-Canada • Intenational
Latest E-Books