Impose AFSPA in Garo Hills: Meghalaya High Court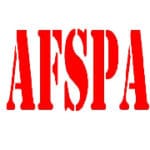 Meghalaya High Court has asked Central Government to enforce Armed Forces (Special Powers) Act (AFSPA), 1958 in militancy-hit Garo Hills region of the state.
The order was issued by a full 3 bench of the High Court comprising Chief Justice Uma Nath Singh, Justice T N K Singh and Justice S R Sen while hearing on pending cases of militants calling bandhs in the state.
The Court observed that
Central government can enforce AFSPA in Garo Hills region in order to deploy armed forces to aid of civil administration to restore public order and maintain the law and order.
The imposition of AFSPA would be only for the purpose of enabling the civil authorities in the state to effectively deal with militancy so that there is a regime of rule of law.
Background
Recently the Meghalaya state is witnessing a rise in number of militancy incidents in the region especially in Garo Hills including abduction of a Megahalya Government Officials by Garo National Liberation Army militants.
Though in past decade the insurgency was more or less contained in the state, but in last 2 years there has been a rise in the number of violence as several dormant insurgent groups in state started resurfacing.
About Armed Forces (Special Powers) Act, 1958
Empowers armed forces to deal effectively in 'Disturbed Areas' declared by both state and Central government.
Parliament had enacted it in 1958 to provide special legal security to the armed forces for carrying out operations in the troubled areas of 7 sisters states of North east.
The act was extended to Jammu and Kashmir in 1990 in order to confront the rising insurgency in the area.
The act provides army officers and jawans legal immunity for their actions undertaken disturbed areas.
Month: Current Affairs - November, 2015
Topics: Current Affairs 2016 • High courts • internal security • Meghalaya • Militancy • North East
Latest E-Books