Govt caps kerosene subsidy at Rs 12 per litre and Rs 18 per kg for LPG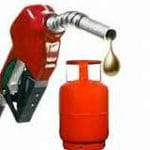 On 10 August Central government has capped the subsidy payout on kerosene at Rs. 12 per litre and Rs. 18 per kg for LPG and notifies the upstream companies to bear about Rs 5,000-6,000 crore kerosene subsidy for the fiscal year.
Subsidy for Kerosene
In public distribution system (PDS) Kerosene is sold at Rs. 14.96 per litre against its actual cost of Rs 29.91 in the market leaving burden of Rs. 14.95 per litre on government which is also called as under-recovery or revenue loss.
Initially this under-recovery loss Rs. 14.95 per litre was paid by government to state owned retailer (ONGC and Oil India Ltd), but according to this new cap set at Rs 12 per litre these upstream companies will have to bear the difference of Rs. 2.95 per litre on them i.e. Rs. 5000 -Rs. 6000 crore for fiscal year.
Subsidy for LPG cylinder
For LPG government has fixed subsidy at Rs. 18 per kg for a 14.2 Kg LPG cylinder and provides 12 LPG cylinders to every household at the subsidised rate for Rs. 417.82 against Rs. 585 in market.
The 

difference of Rs. 167.18 per cylinder is paid by government to consumer through newly launched direct benefit transfer (DBT) scheme in their bank account so that they can pay to the retailer and avail the cylinder at market price Rs. 585.

Thus government bears the entire under-recovery loss for LPG subsidy.
Note: The Government has provided Rs. 22,000 crore towards LPG subsidy and Rs. 8,000 crore on Kerosene in the budget 2015-16.
Month: Current Affairs - August, 2015
Topics: direct benefit transfer (DBT) • Economy • Policy • public distribution system (PDS) • Subsidy
Latest E-Books