Government launches National Deworming initiative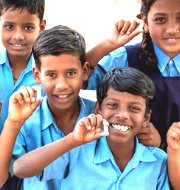 The Union Ministry of Health and Family Welfare (MoHFW) launched National Deworming Initiative on the occasion of National Deworming Day (observed on 10 February). It aims to reach more than 32.2 crore children aged between 1 to 19 years to combat parasitic worm infections. This year it is fourth edition of National Deworming Day after it was launched in 2015.
National Deworming Day
The National Deworming Day is a single fixed-day approach to treating intestinal worm infections in all children aged 1- 19 years and is held on 10 February and 10 August each year. It aims to conduct mass deworming program to mobilize health personnel, state governments and other stakeholders to prioritize investment in control of Soil Transmitted Helminth (STH) infections—one of the most common infections.
Goal of the day is to deworm all preschool and school-age children between the ages of 1-19 years in order to improve their overall health, cognitive development, nutritional status and quality of life. On this day, Albendazole tablets are given to all targeted children. Dosage of half tablet to 1-2 years children and one full tablet for 2-19 years is given. It also spreads behaviour change practices in terms of cleanliness, hygiene, use of toilets, wearing shoes/chappals, washing hands etc. is also important to reduce incidents of re-infection.
Implementation of deworming programmes is led by the Union MoHFW. The Department of School Education and Literacy under the Ministry of Human Resource Development (HRD) and Ministry of Women and Child Development (WCD) also collaborate to implement the day. Ministries of Panchayati Raj, Tribal Affairs, Drinking Water and Sanitation, Rural Development and Urban Development are also other key stakeholders.
STH or Parasitic worms infestation
Parasitic worms or Soil-Transmitted Helminths (STH) are among the most common infections worldwide that causing parasitic infestation with nutrient uptake in small children. STHs live in human intestines and consume essential nutrients meant for the human body. It causes complications among the children resulting in anaemia, malnutrition and improper mental and physical development. Each day, parasitic worms produce thousands of eggs which are passed in human faeces and spread to others by contaminating soil in areas where open defecation predominant and sanitation is poor.
Month: Current Affairs - February, 2018
Topics: Days and Events • Ministry of Health and Family Welfare • national deworming day • National Deworming initiative • Public health
Latest E-Books