Government awards Contracts for completion of Kaladan project in Myanmar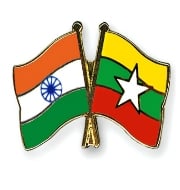 Government has awarded a Rs 1,600-crore contract for constructing 109-km road connecting Paletwa river terminal to Zorinpui in Mizoram border as a part of the $484-million Kaladan multi-modal transport (KMTT) projects in Myanmar which will offer connectivity to Mizoram.
Salient Highlights
Kaladan multi-modal transport projects was the first major project undertaken by the Indian government in Myanmar. 
India has finished constructing Sittwe port in the trouble-prone Rakhine state of Myanmar. Also, the extension of the Aizawl-Saiha National Highway by 90 km to the international border at Zorinpui at the Indian side is nearing completion. In addition, four-laning of the 300 km Aizawl-Tuipang highway to ensure faster movement of goods between Sittwe and Aizawl is also nearing completion.
KMTT
KMTT is essentially a multi-modal transport project having three different stretches involving shipping, Inland Water and road transport stretches. The longest among them is Shipping segment from Kolkata to Sittwe port in Myanmar.
Government of India is funding this project and it is considered as an important investment of India in its neighbourhood.
The cargo will start from Kolkata port and reach Sittwe port in Myanmar by ship. The Sittwe Port would be linked to Lashio (also in Maynmar) via the Kaladan river transport route. Lashio would be connected to Mizoram via road transport (National Highway 54).

Background
The idea for Kaladan multi-modal transport projects was mooted in 2003. However, India and Myanmar signed the framework agreement for Kaladan project only in 2008. Construction began in 2010 but inadequate fund allocation and planning failure delayed the completion of the project.
In 2015, the present government revised the budget estimates by nearly six times and has involved the State-owned Ircon Infrastructure and Services Ltd as consultant with an objective to complete the project in 2019.
As per the terms of the framework agreement, India should also set up an SEZ at Sittwe. The setting up of SEZ at Sittwe is important to promote Indian investment in the region which has overwhelming Chinese influence.
Significance
The completion of KMTT project will play a major role in economic development of the North-East India and it will improve the bilateral relations between India and Myanmar.
When completed, the KMTT will shorten the current time taken to transport goods from Kolkata to Mizoram by three-four days, and the distance by around 950 km. KMMT is hailed as "Future gateway to South East Asia".
Month: Current Affairs - June, 2017
Topics: Bilateral Relations • India-International Relations • India-Myanmar • International • Kaladan multi-modal transport projects • Mizoram
Latest E-Books