Global Passport Power Rank 2017: India ranks 75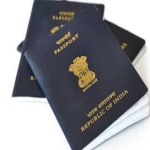 India's passport was ranked 75th among 94 countries in recently released Global Passport Power Rank 2017. India was ranked three notches better than its previous ranking.
According to this index, Singapore has world's most powerful passport, making it first Asian country to top it. Singapore is followed by Germany, Sweden and South Korea.
Key Facts
In this edition of index, Singapore's passport scored visa-free score of 159.It means that approximately 3.4 million holders of Singaporean passports can now travel to 159 countries either without visa or can have one issued on arrival.
Historically, top 10 most powerful passports in world were mostly European, with Germany having lead for past two years. Since early 2017, number one position was shared by Singapore with Germany and steadily it became number one.
US passport was in sixth place, alongside Malaysia, Ireland and Canada. US passport ranking has fallen down since President Donald Trump took office after Turkey and Central African Republic (CAR) revoked visa-free status of US passport holders.
India, which was listed 78th in 2015 has improved its ranking, figuring at 75th position with visa-free score of 51. Afghanistan was placed at last position of 94 rank with a score of 22, followed by Pakistan and Iraq at 93 with a score of 26, Syria at 92 with score of 29 and Somalia at 91 with score of 34.
Global Passport Power Rank
The Global Passport Power Rank is released by Canada based global financial advisory firm Arton Capital. It has become most popular interactive online tool to display, sort and rank world's passports. The index ranks national passports by cross-border access they bring, assigning visa-free score according to number of countries passport holder can visit visa-free or with visa on arrival.
Month: Current Affairs - October, 2017
Category: Reports & Indexes Current Affairs
Topics: Germany • Global Passport Power Rank 2017 • National • Singapore
Latest E-Books