Ghumot to be declared Goa's heritage musical instrument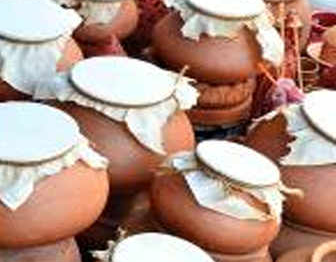 The Art and Culture Minister of Goa, Govind Gaude has announced that Ghumot, an indigenous earthen drum will soon be notified as a heritage instrument of Goa. Ghumot is an indigenous earthen drum fashioned as a designed clay pot, with the skin of the monitor lizard stretched taut across the pot's mouth, forming a drumhead. Ghumot is a percussion instrument widely played during Ganesh Chaturthi Aarties.
Fact Box

Goa which is the former Portuguese colony presented Ghumot as a gift to the Portuguese Prime Minister Anotnio Costa during his visit to India in 2017. Portuguese Prime Minister Anotnio Costa is is of Goan origin.
Why Ghumot was banned?
The skin of monitor lizard is one of the key components of the Ghumot. Since the monitor lizard was classified as an endangered wildlife species and was listed in Schedule I of the Wildlife (Protection) Act 1972, Ghumot was banned by the Forest Department of Goa.
In recent years attempts were made to revive the heritage instrument of Goa by replacing monitor lizard skin with the skin of a she-goat. This revival had spiked the interests about the instrument.
Taking forward the efforts to conserve the heritage musical instrument the government of Goa is taking steps to declare Ghumot as the heritage musical instrument of Goa.
Category: Art & Culture Current Affairs
Topics: endangered wildlife species • Ganesh Chaturthi • Ghumot • Goa • heritage musical instrument • monitor lizard • percussion instrument • Schedule I • Wildlife Protection Act 1972
Latest E-Books