Facts about Kempe Gowda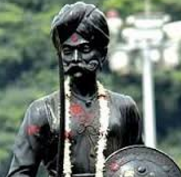 The President of India, recently, inaugurated the Kempe Gowda Festival organized by the Nadaprabhu Kempegowda Foundation in New Delhi.
Facts about Kempe Gowda
Kempe Gowda was a chieftain under the Vijayanagara kings and ruled over most parts of Karnataka in the 16th century. He was born in 1513 in a village near Yelahanka. The Vijayanagara kings bestowed the villages of Ulsoor, Begur Hobli, Varthur, Jigni, Kengeri and Kumbalgod among others upon Kempe Gowda.
According to historians, Kempe Gowda is a just and humane ruler and is widely accepted as the founder of Bangalore. He visualized a city with military cantonment, water tanks, temples etc, that provide employment to tradesmen. Subsequently, he approached the Vijayanagara kings for the approval and laid the foundations for Bangalore City in 1532. Kempe Gowda's planned city had eight access gates and wide roads. He ensured that collection of revenue is just and equitable in the city.
Planned urban development of the Bengaluru city is a testimony to the capability of Kempe Gowda that even today despite unprecedented challenges of population, traffic and environmental pollution, Bengaluru remains as a Garden City. He ensured that collection of revenue is just and equitable.  He is also credited with building the Basavanagudi Bull temple, Ulsoor Someshwara temple and Gavi Gangadhareshwara temple, all of which are stronger even today.
In the 1550s, Kempe Gowda struck coins known as Pagodas. This act of his incurred the displeasure of the Vijayanagara kings and he was imprisoned for five years.
After an illustrious reign of three decades, Kempe Gowda died in 1570.
Month: Current Affairs - April, 2017
Topics: National • Persons in News
Latest E-Books