Election Commission grants National Party status to All India Trinamool Congress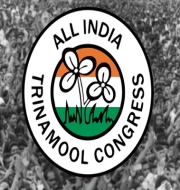 The Election Commission of India (ECI) has granted national party status to All India Trinamool Congress (TMC) Party led by West Bengal Chief Minister Mamata Banerjee.
The party has fulfilled the required conditions to become a national party after getting status of state party in four states. The TMC is ruling the West Bengal Government and has its presence in north eastern states Manipur, Arunachal Pradesh and Tripura.
With this recognition, TMC became seventh national party in the country along with Bharatiya Janata Party (BJP), Congress, Bahujan Samaj Party (BSP), Nationalist Congress Party (NCP), Communist Party of India (CPI) and Communist Party of India-Marxist (CPM).
Note: The Election Commission of India (ECI) is only the authority that grants National Party or State Party status to any political party in the country.
Eligibility to get National Party Status
If any political party
(i) Secures at least 6% of the valid votes polled in any four or more states, in the Lok Sabha election or to the State Legislative Assembly and (ii) In addition, it wins at least 4 seats in the Lok Sabha from any State or States. OR
(iii) Wins at least 2% seats in the Lok Sabha (i.e., 11 seats in the existing Lok Sabha having 543 members) and these members are elected from at least three different States. OR
(iv) It is recognised as a State party in at least four States.
Comment
Recently in August 2016, the ECI had brought changes in Paragraph 6C of the Election Symbols (Reservation and Allotment) Order, 1968 to review the status of political parties every 10 years, instead of present norm of five years.
For instance, the status of a party (either national or state party) that did not perform up to the required criteria in 2014 election will be reviewed in 2024.
The changes has given major reprieve to three political parties (BSP, NCP and CPI) which were facing possibility of losing their "national party" status and all benefits associated with it despite not having met criteria in the 2014 Lok Sabha election.
Month: Current Affairs - September, 2016
Topics: All India Trinamool Congress • Election Commission • Mamata Banerjee • National • Political parties • States
Latest E-Books