Earth Hour 2016 observed across the World on 19 March 2016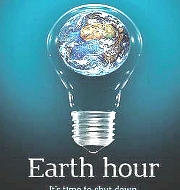 The tenth edition of World Wide Fund for Nature's (WWF's) Earth Hour was observed across the World on 19 March 2016 from 8:30 pm to 9:30 pm local time.
Earth Hour 2016 encouraged people to explore and adopt a cleaner and more sustainable lifestyle by embracing renewable energy solutions.
Key facts
In the 2016 edition of Earth Hour, millions of people around the world took part in the event for the global climate change awareness campaign.
Over 178 countries and territories participated in the event and more than 1,200 landmarks along with 40 UNESCO world heritage sites observed the Earth Hour.
For India, the country-specific theme was to encourage usage of solar energy by individuals and organizations.
Paris's iconic Eiffel Tower, Berlin's Brandenburg Gate and Hong Kong's famed skyline also participated in the Earth Hour by switching off their lights for 1 hour from 8:30pm local time. In India, Rashtrapati Bhavan also participated by switching off lights for 1 hour.
About Earth Hour
It is an annual global environmental event (movement) organized by the World Wide Fund for Nature (WWF).
Earth Hour's goal is to raise awareness for sustainable energy use and create a more environmentally sustainable lifestyle.
This day encourages citizens, communities, businesses and organisations to switch the lights off from 8:30 pm local time for an hour to highlight the plight of the planet.
The first Earth Hour was held on March 31, 2007 in Sydney, Australia. Since then it became annual global environmental event (movement).
World Wide Fund for Nature (WWF): It is an international non-governmental organization (NGO) working in the field of the biodiversity conservation, and the reduction of humanity's footprint on the environment.
Month: Current Affairs - March, 2016
Topics: Current Affairs 2016 • Earth Hour • Environment • Events • Internatonal • WWF
Latest E-Books