Dr S Shettar passes away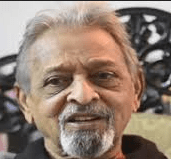 Veteran historian Dr S Shettar recently passed away in Bengaluru, at the age of 85. He taught history in many universities for more than twenty-five years.
Shettar completed his Ph.D from Cambridge University in England. He had held several important positions including Director of the Institute of Indian Art History at Karnatak University, Dharwad, and Chairman of Indian Council of Historical Research, New Delhi.
Topics: Eminent Historians • Indian Council of Historical Research • University of Cambridge
Latest E-Books