DARIN III gets IOC to join Indian Air Force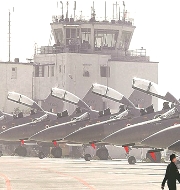 The Indian Air Force (IAF) has given initial operational clearance (IOC) to the upgraded Jaguar Darin-III twin-seat aircraft. Hindustan Aeronautics Limited (HAL), certification agencies, trial team of the Aircraft Systems Testing Establishment (ASTE) and other agencies are involved in upgrading Jaguar from Darin-I (Display Attack Ranging Inertial Navigation) to Darin-III standard. This is a part of IAF's modernisation plan to upgrade four decades old Jaguar fighters which are capable of carrying nuclear weapons like French Mirage 2000s.
The upgraded Jaguar has been equipped with world-class avionics system and incorporates Open System Architecture Mission Computer (OSAMC), Fire Control Radar, Solid State Digital Video Recording System (SSDVRS), Autopilot with Alt Select & HNAV and Identification of Friend or Foe (IFF) etc.
Significance
Upgraded jaguar will enable improvement in data handling and overall capabilities. The upgrade will boost the already dwindling IAF's fleet of combat aircraft. MiG-21s and MiG-27s have already retired, forcing the IAF to close down their squadrons. Upgradation made for the nuclear-capable Jaguar will make it fly for another two decades.
HAL is an aerospace and defence company based in Bangalore. It is under the management of the Ministry of Defence. It is involved in design, fabrication and assembly of aircraft, jet engines, helicopters and their spare parts.

Jaguar is an Anglo-French built fighters originally used by the British Royal Air Force and French Air Force. The Jaguar fleet of the IAF is based at the Ambala air force station.
Topics: Aircraft • Ambala Air Force Station • Aviation • Future of the Indian Air Force • Hindustan Aeronautics Limited • Indian Air Force • Mikoyan MiG-27 • Mikoyan-Gurevich MiG-21 • SEPECAT Jaguar
Latest E-Books