Top News Headlines by GKToday – 1 July 2019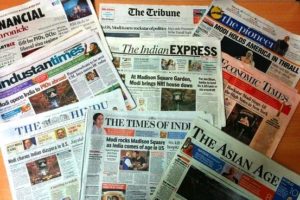 NATIONAL
Defence: India sign Rs. 200 crore deal for acquiring 'Strum Ataka' anti-tank missiles from Russia
Jaya Arunachalam: Working Women's Forum (WWF) founder dies in Chennai aged 87
New comic book titled 'Dabbawala' on tiffin carriers of Mumbai, written and illustrated by artist Abhijeet Kini, released
June 29: National Statistics Day celebrated with theme as 'Sustainable Development Goals (SDGs).
ECONOMY & BUSSINES
Price of non-subsidised LPG cut by over Rs 100 per cylinder
Money in Swiss banks: India slips one place to 74th, UK retains top rank
INTERNATIONAL
Abu Dhabi hosting joint security exercise of International Security Alliance 'ISALEX19' from June 30
International Security Alliance comprises UAE, Bahrain, Morocco, France, Italy, Spain, Senegal, Singapore, and Slovak Republic
United Nations World Drug Report: 271 million people globally used recreational drugs in 2017
Donald Trump becomes first sitting US president to set foot in North Korea
Membership of China's ruling Communist Party exceeds 90 million
European Union and Vietnam sign free trade deal that will slash duties on almost all goods
Events
30 June: World Social Media Day observed
30 June: International Day of Parliamentarism observed. It marks day of establishment of Inter-Parliamentary Union in 1889
30 June: International Asteroid Day observed. It marks the day of Tunguska impact over Siberia, Russia in 1908.
SPORTS
Max Verstappen of Red Bull wins Formula One Austrian Grand Prix at Spielberg followed by Charles Leclerc (Ferrari) and Valtteri Bottas (Mercedes) in 2nd and 3rd places respectively
Rakesh Shukla, former India leg-spinner, passes in Delhi at the age of 71
Czech Republic's Karolina Pliskova defeats Germany's Angelique Kerber in final 6-1, 6-4 to win women's singles title at Eastbourne International tennis in UK
Category: Today's News Headlines
Latest E-Books