Current Affairs – January 20, 2021 [Today's News Headlines]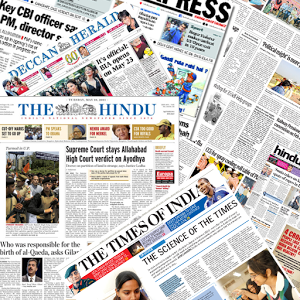 Here are Today's News Headlines by GK Today for January 20, 2021
India
Parakram Diwas
On January 19, 2021, the Union Culture Ministry announced that the birth anniversary of Subhash Chandra Bose is to be celebrated as Parakram Diwas every year .
PM Modi named Somnath Temple Trust chairman
Prime Minister Narendra Modi was chosen as the new chairman of the trust that manages the world famous Somnath Temple in Gujarat. Prime Minister Modi is the second person to hold the post after the former Prime Minister Morarji Desai.
Uttarakhand increases number of working days from hundred to 150 under MGNREGA
The Uttarakhand government recently announced that it is increasing the working days under the Mahatma Gandhi National Rural Employment Guarantee Act from hundred to 150.
Science City at Tepesia, Assam
On January 19, 2021, The Assam Chief Minister laid the foundation stone of the Science City at Tepesia, Assam.
Kiren Rijiju assigned additional charge of Ministry of Ayush
The Ayush Minister Shripad Naik is hospitalized following a road accident. Therefore, the Union Minister Kiren Rijiju has been assigned the additional charge of Ministry of Ayush.
Oncologist Shanta dies at 93
The renowned oncologist Dr Shanta recently died in Chennai at the age of 93. She was the chairperson of Adyar Cancer Institute. She has received Padma Shri, Padma Bhushan and Padma Vibhushan.
Azim Premji wins Press Club of Bangalore award
The Founder chairman of Narayana health Dr Devi Prasad Shetty and the chairman of Wipro Limited Azim Premji have been selected for the annual awards given by the Press Club of Bangalore.
Task force on marriage age submit report to the Prime Minister Office
The task force set up to relook the marriage age of women has submitted its report to the Prime Minister office and the Ministry of Women and Child development. The committee was formed under Jaya Jaitley in June 2020.
Economy and Corporate
ICICI, SBI and HDFC remain Domestic Systematically Important banks
On January 19, 2021, the Reserve Bank of India said that SBI, ICICI and HDFC banks continue to be Domestic Systematically Important Banks.
National startup advisory council
The Government of India has decided to nominate non official members on the National Startup Advisory Council for a term of 2 years.
Madhya Pradesh gets additional financial resources
The Department of Expenditure has granted permission to mobilize additional financial resources of 1,423 crores of rupees to the Madhya Pradesh government. This is because, the state of Madhya Pradesh has successfully completed one out of three stipulated reforms in the power sector.
Compensation charges levied on air pollution non-compliant entities
The Ministry of Environment, Forest and Climate Change recently announced that the inspection teams constituted to abate air pollution has levied environmental compensation charges of 76 lakhs of rupees on non-compliant entities.
National Conference of States on logistics
On January 19, 2021, the Union Minister of Railways, Commerce and Industry Consumer Affairs Shri Piyush Goyal addressed the first National Conference of States on logistics.
India Digital summit
On January 19, 2021, the India Digital Summit was organised by the Internet and Mobile Association of India.
Airport Authority of India sign agreement with the Adani group to manage Thiruvananthapuram airport
On January 19, 2021, the Airport Authority of India signed a Memorandum of Understanding with the Adani group to manage and develop the Thiruvananthapuram International Airport in spite of the opposition from the state and cases in the supreme court.
World
India to supply covid-19 vaccines to 6 countries
On January 19, 2021, India announced that it will supply covid-19 vaccines to Maldives, Bhutan, Bangladesh, Nepal, Seychelles and Myanmar.
S400 training for Indian Military Specialist in Moscow
By the year end the Indian military specialists are to receive S400 training in Moscow. In October 2018, India signed a 5.43 billion USD of deal with Russia for 5 S400 missiles in spite of objections from the United States and threat of CAATSA.
Iran and six other countries lose Right to vote in United nations
On January 18, 2021, the United Nations announced that Iran and six other countries have lost their rights to vote in United Nations General Assembly. This is because these countries have not paid their dues. The countries are Libya, Niger, Congo Brazzaville, Central African Republic, Zimbabwe and South Sudan.
Turkey slaps advertising ban on Twitter in interest
On January 19, 2021, Turkey slapped advertising ban on Twitter and pin interest over their non-compliance with a new controversial law that requires social media platforms to appoint legal representatives in the country.
World Economic Forum announces Davos Agenda Summit
The World Economic Forum recently announced that the Davos Agenda Summit is to be held between January 25 and January 29, 2021.
Sports
India wins four test series in Australia
On January 19, 2021, India defeated Australia by three wickets in the fourth and final test in Australia and retained the Border-Gavaskar Trophy.
Month: Current Affairs - January, 2021
Category: Today's News Headlines
Topics: Current Affairs Headlines • Current Affairs: News Headlines • Headlines • Latest News Headlines • News Headlines • Top Headlines
Latest E-Books