Current Affairs – December 6, 2020 [Today's News Headlines]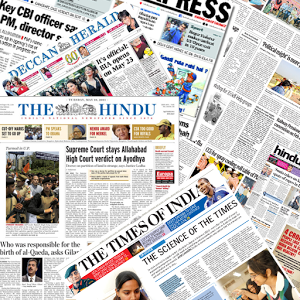 Here are today's news headlines for December 6, 2020
India
India summons Canadian diplomat over remands office prime minister on farmer protests
On December 4, 2020, India summoned the Canadian High Commissioner to convey him that the comments made by the Canadian Prime Minister Justin trudeau on the farmers agitation in India is an unacceptable interference in internal affairs of the country.
Lt general Paramjit Singh appointed as Deputy Chief of army
On December 3, 2020, the Government of India sanctioned the creation of post of Deputy Chief of Army staff (Strategy). General Paramjit Singh has been appointed as the first Deputy Chief of Army staff (Strategy).
Economy and corporate
Adar poonawalla  awarded the title of Asian of the year
The Chief Executive of Serum Institute of India is one among the six people to be awarded with Asians of the Year. The title is being provided by the Straits Times, a Singapore daily.
Forex reserves of India down to 574.8 to billion USD
The Foreign Exchange Reserves of India declined  by 469 million USD. The gold reserves declined by 822 million USD. The Reserve position of the country with International Monetary Fund decreased by 1 million USD and the special drawing rights increased by 2 million USD.
BBB recommended to the post of SIDBI CMD
On December 5, 2020, the headhunter for state owned banks and Financial Institutions, the Banks Board Bureau recommended Shivendra Tomar and Raman for the post of Managing Director and Chief managing director of IFCI and Small Industries Development Bank of India (SIDBI)respectively.
World
International Volunteer Day: December 5
The United Nations observed the International Volunteer Day on December 5, 2020. Theme: "together we can through volunteering".
World Soil Day: December 5
The Food and Agriculture Organisation of the United Nations observed the world soil day on December 5, 2020. The organisation launched a campaign "to keep soil alive, protect soil biodiversity".
Hayabusa2 arrives after collecting samples from asteroid Ryugu
On December 6, 2020, Hayabusa2 returned to the earth after collecting samples from the Ryugu asteroid.
Deferred action for childhood arrivals (DACA)
The federal court of the United States reversed the decision of outgoing Trump administration to protect the undocumented immigrants brought to the United States as minors from deportation. The Trump administration had tried to end DACA.
5 China paid cultural exchange programs in the United States
Trump administration has ended a five cultural exchange programs with China saying that these programs had no benefit to the United States.
Month: Current Affairs - December, 2020
Category: Today's News Headlines
Topics: Current Affairs Headlines • Current Affairs: News Headlines • Headlines • Latest News Headlines • News Headlines • Top Headlines
Latest E-Books