Current Affairs – December 28, 2020 [Today's News Headlines]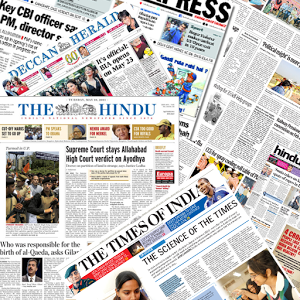 Here are Today's News Headlines for December 28, 2020
India
Thoubal Multipurpose Project inaugurated by Home Minister in Manipur
On December 27, 2020, Home Minister Amit Shah inaugurated the Thoubal Multipurpose project in Imphal, the capital of Manipur. Alongside, the minister also laid foundation stone to seven other development projects including Churachandpur Medical College.
UP School Curriculum to include History of Sikh Gurus
On December 27, 2020, Chief Minister Yogi Adityanath announced that the history of Sikh Gurus is to be included in the school curriculum of Uttar Pradesh. The announcement was made during the celebrations of "Sahibzada Diwas". It marks the martyrdom of four "Sahibzada" of Guru Gobind Singh and mata Gujiri.
Sunil Kothari passed away at 87
The Dance Scholar and critic Sunil Kotahri passed away in New Delhi on December 27, 2020. He was 87 years old. He has received Padma Shri in 2001 and Sangeet Akademi Award in 1995.
Economy and Corporate
ITBP starts Online Liquor Distribution system
The Indo-Tibetan Border Police has launched the internet-based liquor distribution system for the retired personnel of the Indo-Tibetan Border Police. The Centralised Liquor Management System has been launched as a solution to the problem of non-availability of desired liquor brands. The system has also been extended to the personnel currently serving as the ITBP as well.
Driving License Validity extended till March 31, 2021
The Union Transport Ministry has extended the validity of motor vehicle documents such as Registration Certificate, Driving License till March 31, 2021 in the view of ongoing COVID-19 pandemic.
World
China asks Ant Group to return to its original business
The Financial Regulators of China have asked the Ant Group to return to its original business of payment service provider. This is being done to prohibit unfair competition, prevent uncontrolled growth from leading to financial risks. The founder of Alibaba and Ant Group is one of the richest and most prominent entrepreneurs of China.
India-Vietnam Naval Exercise in South China Sea
On December 27, 2020, India and Vietnam concluded two-day passage exercise in South China Sea to boost maritime cooperation.
Archaeologists have uncovered an ancient Street Food shop in Pompeii, Italy
The Archaeologists in Pompeii, Italian city have a hot food and drinks shop that served as a street food shop in 79 AD. The City was buried in volcanic eruption. The city depicts Greco-Roman life and is a UNESCO World Heritage Site.
Sports
M S Dhoni named the captain of ICC ODI and T20 teams
Mahendra Singh Dhoni was named the captain of ICC ODI and T20 International teams of the decade. Virat Kohli was voted as the skipper of the test team.
Month: Current Affairs - December, 2020
Category: Today's News Headlines
Topics: Current Affairs Headlines • Current Affairs: News Headlines • Headlines • Latest News Headlines • News Headlines • Top Headlines
Latest E-Books