Current Affairs – December 27, 2020 [Today's News Headlines]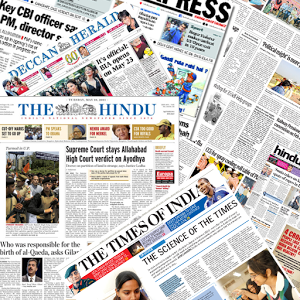 Here are Today's News Headlines for December 27, 2020
India
India Ayushman Bharat PM-JAY SEHAT launched in J&K
On December 26, 2020, Prime Minister Narendra Modi launched Ayushman Bharat Jan Arogya Yojana SEHAT in Jammu and Kashmir. The scheme will provide free-of-cost health insurance up to Rs 5 lakhs per family.
Rashtriya Loktantrik party announces split from NDA
On December 26, the Rashtriya Loktantrik Party convenor Hanuman Beniwal announced a split from the BJP-led NDA over the Farm laws. He is a Lok Sabha MP from Nagaur in Rajasthan.
Dharma Swatantry (Religious Freedom) bill, 2020 approved in MP
On December 26, 2020, the Madhya Pradesh Cabinet approved the Religious Freedom Bill, 2020. Under the bill, forcing religious conversion on someone will attract imprisonment and minimum fine of Rs 25,000.
Economy and Corporate
Finance Ministry allows Rajasthan Government to borrow additional amount
On December 26, 2020, the Finance Ministry permitted Rajasthan to borrow Rs 2,731 crores after its successful Ese of Doing Business reforms. The other five states that have completed the reforms are Tamil Nadu, Madhya Pradesh, Karnataka, Andhra Pradesh and Telangana.
India to become fifth largest Economy in 2025
The Centre for Economics and Business Research said that India is to become the fifth largest economy in 2025. India had overtaken UK in 2019 to become the fifth largest economy after US, China, Japan and Germany. However, it was pushed back to sixth position in 2020.
World
Britain and EU to unveil full text of Brexit
On December 26, 2020, the European Union and Britain published full text of their post Brexit trade agreement that aimed to govern their relationship after UK leaves the EU on December 31, 2020.
Sports
Robin Jackman dies at 75
The former cricketer Robin Jackman who played four test matches and fifteen one day internationals between 1974 and 1983 died at the age of 75 on December 25, 2020 in south Africa.
Month: Current Affairs - December, 2020
Category: Today's News Headlines
Topics: Current Affairs Headlines • Current Affairs: News Headlines • Headlines • Latest News Headlines • News Headlines • Top Headlines
Latest E-Books