Current Affairs – December 18, 2020 [Today's News Headlines]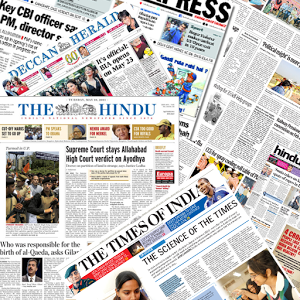 Here are Today's News Headlines for December 18, 2020
India
India and Bangladesh hold bilateral submit
On December 17, 2020, Prime Minister Narendra Modi and his Bangladeshi counterpart Sheikh Hasina held a virtual Summit. During the Summit the leaders find 7 agreements to expand cooperation in in different areas.
100 page e-booklet "Putting Farmers First" released by Government of India
On December 17, 2020, the Government of India released a hundred page e-booklet called "Putting Farmers First". The booklet highlights the success stories of farmers who have benefited from contract farming.
SC proposes committee of farmer leaders
On December 16, 2020, Supreme Court said that the talks between the Government of India and the farmer leaders on the three controversial agricultural laws have bound to fail. The apex court has thus recommended to set up a committee of farmers leaders to resolve the issue.
PSLV-C50 launches CMS-01 successfully
On December 17, 2020, the Indian Space Research Organisation successfully launched the CMS-01 satellite. The life of the satellite is seven years.
Exempt IIT Faculty recruitment from reservation: Education Ministry
The committee constituted by the Ministry of Education has suggested measures for effective implementation of reservation policies in IIT. The committee has suggested that these premier institutions should be included in the list of Institutes of Excellence and the faculty recruitment should be exempted from reservation.
Union culture ministry to commemorate Netaji 125th birth anniversary in 2022
The union Ministry of culture is to open a museum of Netaji Subhas Chandra Bose in Kolkata to commemorate his 25th birth anniversary in 2022.
Economy and Corporate
Cabinet clears 3500 crores of rupees subsidy for sugar exports
The Union Cabinet recently approved 3500 crores of subsidies two sugar mills in order to incentivize them to export 60 lakh tonnes of sugar.
Defence acquisition Council approves 27000 crores of rupees proposals
On December 17, 2020, the  Defence Acquisition Council headed by Defence Minister Rajnath Singh approved proposals to procure equipment worth 27000 crores of Rupees from the domestic industry.
World
India ranked 131 in Human Development Index
The United Nations Development Programme recently released the Human Development Report. According to the report, India ranked 131 on Human Development Index.
Young Champions of the Earth 2020 prize by United Nations Environment Programme
United Nations Environment Programme has announced seven winners of The Young champions of the earth 2020 price. The prizes are awarded to 7 entrepreneurs every year under the age of 30.
US Treasury puts India on currency manipulators monitoring list
On December 16, 2020, the United States treasury labelled Vietnam and Switzerland as currency manipulators. It also added 3 new names including India towards watch list of countries.
Siddhartha Chatterjee appointed as UN President coordinator in China
Siddharth Chatterjee of India was appointed as the United Nations resident coordinator in China. Resident coordinators are the representatives of the United Nations Secretary General for development at country level.
Chinese spacecraft returns to earth with debris from moon
Chinese lunar capsule Chang'e 5 has returned to the earth with fresh samples of Rock and Debris from moon.
Chemical Castration of rapists in Pakistan
The Pakistan Government recently approved chemical castration of rapists under its new Anti-Rape Law.
Sports
Russia banned from using its flag and name at next two Olympics
The Geneva based Court of arbitration for sports has banned Russia from using its flag, name and national anthem at the next two Olympics or at any world championships for the next two years. The Russian authorities are alleged to have tampered with the database from Moscow testing laboratory before handing it over to World Anti-Doping Agency (WADA) investigators in 2019.
Yogasana recognised as a competitive sport by the sports ministry
On December 17, 2020, the sports ministry formally recognised Yogasana as a competitive sport.
Month: Current Affairs - December, 2020
Category: Today's News Headlines
Topics: Current Affairs Headlines • Current Affairs: News Headlines • Headlines • Latest News Headlines • News Headlines • Top Headlines
Latest E-Books