Top News Headlines by GKToday – 29 June, 2019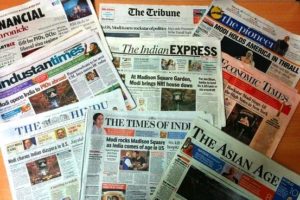 NATIONAL
'A Prime Minister to Remember- Memories of a Military Chief', book by former Navy chief Admiral Sushil Kumar, released.
'Relentless,' Autobiography by Former finance minister Yashwant Sinha to be released in July.
The Jammu and Kashmir Reservation (Amendment) Bill, 2019 was passed in Lok Sabha.
HRD Ministry finalised and released Five-year Vision Plan 'Education Quality Upgradation and Inclusion Programme (EQUIP).
Lok Sabha approves President's Rule in J&K for another six months.
Rajya Sabha Election:
Odisha: Amar Patnaik (BJD), Sasmit Patra (BJD) and Ashwini Baishnab (BJP) elected to Rajya Sabha (RS).
Bihar: Union minister and Lok Janshakti Party chief Ram Vilas Paswan elected unopposed to the Rajya Sabha.
ECONOMY & BUSINESS
BSE Sensex: 39,394.64 (–191.77), NSE Nifty: 11,788.85 (–52.70)
India's foreign exchange (FOREX) reserves rise to a record high of USD 426.416 billion in week to June 21.
Government cuts interest rate on small savings schemes, including NSC and PPF, by 0.1% for July-September quarter.
Indian Railways conducting trials of TRI-NETRA (Terrain Imaging for Drivers Infrared, Enhanced, Optical & Radar Assisted) technology for detecting obstructions on tracks. NITI Aayog Member Ramesh Chand to chair government appointed working group tasked with revising current wholesale price index (WPI)
'Go Tribal' campaign, launched by Tribal Affairs Ministry and TRIFED in association with Amazon Global.
Reserve Bank of India
India's external debt increases 2.63% to $543 billion at March-end: RBI
RBI relaxes leverage ratio (LR) for banks to help them boost their lending activities. The leverage ratio, as defined under Basel-III norms, is Tier-I capital as a percentage of the bank's exposures.
RBI permits Asset Reconstruction Companies (ARCs) to acquire financial assets from each other
Payment System Operators (PSOs) need to store entire payments data in a system only in India: RBI
RBI-appointed committee headed by former SEBI Chairman U.K. Sinha recommends ₹5,000 crore distressed asset fund for micro, small and medium enterprises (MSMEs)
INTERNATIONAL
G20 Summit: PM Modi holds trilateral meeting with Chinese President Xi Jinping and Russian President Vladimir Putin on sidelines of G20 Summit in Osaka
Twitter to take down tweets by politicians who 'break its rules'
Jony Ive, designer of iPod, Macbook and iPhone quits Apple after 3 decades.
Sri Lankan President Maithripala Sirisena signs death warrants for 4 drug offence convicts, lifting a four-decade-long moratorium on capital punishment in Sri Lanka
All nations in Asia-Pacific Group support India's bid for a non-permanent seat at UN Security Council (UNSC) for a two-year term in 2021-2022.
SPORTS
India's chief national badminton coach Pullela Gopichand bestowed upon an honorary doctorate by IIT Kanpur.
Indian Olympic Association (IOA) president Narinder Batra elected as a member of International Olympic Committee (IOC) in Lausanne.
Category: Today's News Headlines
Latest E-Books