COP22 adopts Marrakech Action Proclamation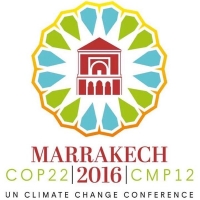 The COP22 to the UNFCC, 12th session of COP of Parties to Kyoto Protocol (CMP 12), and first session of COP of Parties to the Paris Agreement (CMA 1) were held in Marrakech, Morocco.
Nearly 200 nations attending the COP22 to the UNFCC have adopted Marrakech Action Proclamation for Our Climate and Sustainable Development.
The 11-day meeting concluded with all participating member nations collectively reaffirming their commitment to climate action under Paris Agreement adopted in November 2015.
Key Features of Proclamation
It is urgent duty of countries to respond global warming which is warming the climate at an alarming and unprecedented rate.
It is necessary for rapid entry into force of the Paris Agreement with its ambitious goals, its inclusive nature and its reflection of equity and common but differentiated responsibilities.
Countries affirm their commitment to full implementation of the Paris Agreement which also reflects respective capabilities in light of different national circumstances of countries.
The nations demanded solidarity with those countries most vulnerable to the impacts of climate change.
It highlighted the need to support efforts aimed at enhancing their adaptive capacity, to strengthen resilience and to reduce vulnerability of most vulnerable countries.
The countries called for an increase in the volume, flow and access to finance for climate projects, alongside improved capacity and technology.
Developed Country Parties, reaffirm our $100 billion mobilisation goal.
The nations, who are parties to Kyoto Protocol (which does not include the US) should ratify of the Doha Amendment, with its focus on pre-2020 action.
Called for urgently raising ambition and strengthening cooperation among the countries to close the gap between current emissions trajectories.
Strengthen and support efforts to eradicate poverty, ensure food security and to take stringent action to deal with climate change challenges in agriculture.
Significance
The adaptation of Marrakech Action Proclamation sends out a strong signal to the world on climate action and shift towards a new era of implementation and action on climate and sustainable development.
India has welcomed Marrakesh Action Proclamation as most of its demands including the issue of providing finance to developing nations to tackle climate change has been incorporated.
Doha Amendments to the Kyoto Protocol
Doha Amendments to the Kyoto Protocol was made at Doha climate conference in 2012.
It was made for extending the obligation of the developed countries under Kyoto Protocol to make targeted cuts in their greenhouse gas (GHGs) emissions by 2020.
The Kyoto Protocol adopted in 1997 had initially assigned GHGs emission cut targets to the developed countries only till 2012.
Why Doha Amendments are important?
Developing countries are putting pressure on developed countries not to ignore their commitments under Kyoto Protocol which ends in 2020 and after which Paris Agreement come into existence.
Unlike the Kyoto Protocol, Paris Agreement is not legally-binding and it does not assign any emission cut targets on any country.
Under Paris Agreement, every country decides for itself the actions that it wants to take to fight climate change.
Month: Current Affairs - November, 2016
Topics: Climate change • International • Kyoto Protocol • Marrakech Action Proclamation • Paris Agreement
Latest E-Books