Cabinet approves the exclusion of States from National Small Savings Fund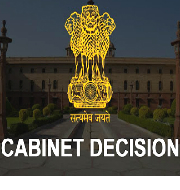 The Union Cabinet has excluded States and Union Territories except Arunachal Pradesh, Kerala, Delhi (UT) and Madhya Pradesh from National Small Savings Fund (NSSF) investments with effect from 1 April 2016
The cabinet meeting chaired by Prime Minister Narendra Modi also approved one-time loan of Rs. 45000 crore from NSSF to Food Corporation of India (FCI) to meet its food subsidy requirements.
Key Facts
Arunachal Pradesh will be given loans to the tune of 100% of NSSF collections within its territory, while Kerala, Madhya Pradesh and Delhi (UT) will be provided with 50% of collections.
Through the budget line of Department of Food and Public Distribution, the servicing of interest and principal of debt will be extended to Food Corporation of India (FCI).
The repayment obligation of the FCI in respect of NSSF Loans will be treated as the first charge on the food subsidy released to the FCI.
In addition, FCI will be required to reduce the amount of its current Cash Credit Limit with the banking consortium to the extent of the NSSF loan amount.
An legally binding agreement will be signed between Department of Food, FCI and NSSF on the modalities for repayment of interest rate and the restructuring of FCI debt will be made possible within 2-5 years.
In the future, NSSF will invest on items whose expenditure is ultimately borne by Union Government and Union budget will meet requirement of the repayment of the principal and interest of that amount.
Background
The 14th Finance Commission (FFC) had recommended that the State Governments should be excluded from the investment operations of the NSSF. The main reason given was that NSSF loans come at an extra cost to the State Governments compared to the market rates which are considerably lower. Following this, Union Cabinet in February 2015 held that this recommendation will be examined in due course in consultation with various stake holders. Later, all states except Arunachal Pradesh, Delhi, Kerala and Madhya Pradesh expressed their desire to be excluded from NSSF investments.
About National Small Savings Fund (NSSF)
NSSF was set up on 1 April, 1999 with an objective to account all the monetary transactions under small savings schemes of the Union Government under one umbrella. It was set up in the Public Account of India.
The net accretions under the small savings schemes are invested in the special securities of various States/ Union Territories (with legislature)/Central Governments.
States not only can borrow from this account but have the obligation to borrow. The minimum obligation of States to borrow from the NSSF has been brought down from 100% to 80% of net collections from 2007.
Month: Current Affairs - January, 2017
Topics: Cabinet Decisions • FCI • National • National Small Savings Fund • PDS • States
Latest E-Books