Australia's Budj Bim Cultural Landscape included in UNESCO's WHS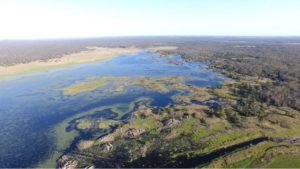 Australian Aboriginal site 'Budj Bim Cultural Landscape' in south-west Victoria has been added to UNESCOS's World Heritage List. It was added to UNESCOS's World Heritage List at a meeting in Baku, in Azerbaijan following a decades-long campaign by traditional owners.
About Budj Bim Cultural Landscape
The site is located within Country of the Gunditjmara, an Aboriginal nation in southwest of Australia.
It was created about 6,600 years ago by the Gunditjmara people. It is older than pyramids, Acropolis and Stonehenge.
Now being included in WHS it has become 1st site in Australia to receive world heritage protection only for its Aboriginal cultural importance.
It features remnants of nearly 300 round stone huts that are now only remaining permanent houses built by an indigenous community in Australia. These stone huts challenges common perception that all Aboriginal people were nomadic.
Geography: It includes Budj Bim Volcano and Lake Condah (or Tae Rak), as well as Kurtonitj (Indigenous Protected Area) component, characterized by wetland swamps, and Tyrendarra in south, which is an area of rocky ridges and large marshes.
Worlds' oldest Freshwater Aquaculture Systems: Volcano Budj Bim lava flows, which connect these 3 components, have enabled Gunditjmara to develop one of the largest and oldest aquaculture networks in world.
Eel Harvesting: Being composed of dams, channels and weirs (low head dam), they are used to contain floodwaters and create basins so as to trap, store and harvest kooyang eel (Anguilla australis), which has provided native population with an economic and social base for 6 millennia.
It is the 20th site in Australia to make it to WHS list. It is 2nd site for Victoria alongside Royal Exhibition Building and Carlton Gardens, which was listed in 2004.
Other Australian World Heritage Sites includes- Great Barrier Reef, Sydney Opera House and Kakadu national park.
Related Posts
Category: Art & Culture Current Affairs
Topics: Australian World Heritage Sites • Budj Bim Cultural Landscape • Great Barrier Reef • Gunditjmara • kooyang eel • Sydney Opera House • UNESCOS World Heritage List. • Worlds' oldest Freshwater Aquaculture Systems
Latest E-Books