Anerood Jugnauth is new PM of Mauritius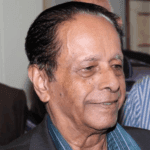 Sir Anerood Jugnauth was elected as new Prime Minister (PM) of Mauritius. Mauritius' President Kailash Purryaghas named him as prime minister after his party's landslide victory in recent parliamentary elections.
In recent elections, Jugnauth's centre-right Alliance Lepep won 47 out of 62 seats in the Mauritius' parliament. While the coalition of the outgoing ruling Labour Party and the former opposition Mauritian Militant Movement (MMM) of ex-Prime Minister Paul Berenger won just 13 seats.
This parliamentary election was one of the most crucial since Mauritius' became independent from Britain in 1968 as there is debate over constitutional reform – notably over a divisive proposal to strengthen presidential powers.
About Sir Anerood Jugnauth
Previously, Mr. Jugnauth was PM of Mauritius between 1982 and 1995 and again between 2000 and 2003. He was President from 2003-2012.
Mauritius- It is an island nation in the Indian Ocean. The capital and largest city is Port Louis. It is one of the richest countries in Africa with a per capita GDP of just over $9,000.
The country in its history after becoming independent from Britain in 1968 had only four prime ministers. Jugnauth and Navinchandra Ramgoolam have alternated posts since 1982, except for a brief gap between 2003 and 2005 when Paul Berenger served as prime minister.
Month: Current Affairs - December, 2014
Topics: Mauritius
Latest E-Books