3rd G20 Framework Working Group meeting held in Varanasi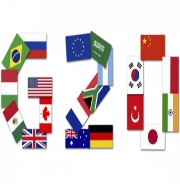 The third edition of G20 Framework Working Group (FWG) meeting was held in Varanasi, Uttar Pradesh.
The two-day meeting took place under the G20 German presidency, and was co-hosted by the Union Finance Ministry and the Reserve Bank of India (RBI).
It was inaugurated by Shaktikanta Das, Economic Affairs Secretary and Dinesh Sharma, special secretary in the Finance ministry was head the programme.
Key Facts 
The two day meeting held discussions on the current global economic conjecture as well as deliberations on the policy options that countries can pursue to counter the challenges.
It also deliberated on the inclusive growth agenda of G20 and formulated a framework that will enable countries to help frame country specific inclusive growth policies.
The high-profile meeting was attended by around 100 financial and economic policy mandarins from around 19 countries of G20.
Officials from the International Monetary Fund (IMF), World Bank, OECD, ILO, UNCTAD, European Central Bank, European Commission, Financial Stability Board and Asian Development Bank also participated in it.
Background
The first two FWG meetings under the German presidency of G20 were held at Berlin in December 2016 and at Riyadh in February 2017. The fourth and the last G20 FWG meeting under the G-20 German presidency is likely to be held in Argentina before the G20 leaders' summit in July 2017 in Hamburg, Germany.
Note: This was the fourth occasion that India, hosted the FWG meeting since its inception in 2009.Previously, India had hosted the G20 FWG meeting in Neemrana (2012 under Mexican presidency), Goa (2014 under Australian presidency) and in Kerala (2015 under Turkish presidency).
About G20
The Group of Twenty (G20) is the premier forum for its members' international economic cooperation and decision-making. It is deliberating on global economic issues and other important development challenges.
It comprises total 19 countries plus the European Union (EU), representing 85% of global GDP, 80% of international trade, 65% of world's population.
It was started in 1999 as a meeting of Finance Ministers and Central Bank Governors in the aftermath of the Southeast Asian (Tiger economies) financial crisis.
In 2008, the first G20 Leaders' Summit was held in Washington DC, US. The group had played a key role in responding to the global financial crisis.
Its members include India, Australia, Argentina, Brazil, Canada, China, France, Germany, Indonesia, Italy, Japan, South Korea, Mexico, Saudi Arabia, Russia, Turkey, South Africa, UK, US and EU.
Month: Current Affairs - March, 2017
Topics: Finance Ministry • G20 • G20 FWG Meeting • Inclusive Growth • India • RBI • Varanasi
Latest E-Books