18 May: 'Buddha Purnima' celebrated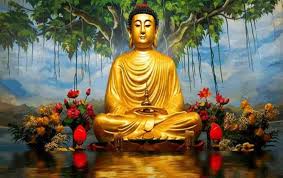 Buddha Purnima also known as Vaishak Purnima is the birth anniversary of Gautama Buddha (or Lord Buddha). 18 May 2019 witnessed the 2,563rd birth anniversary of the Buddha and is being celebrated across the world.
About Buddha Purnima
Background: Buddha Purnima festival is traditionally celebrated to commemorate birth of Siddhartha Gautama​, who later became Gautama Buddha and founded Buddhism. People celebrate Siddhartha's (a king by birth) choice to embrace a spiritual quest when he witnessed the suffering of common people which inspired him to let go of his royal life. He then renounced all worldly pleasures and became a holy man.
It is celebrated every year on the full moon day (known as Purnima), in month of Vaishakha, according to Hindu Lunar calendar.
Reason: It is also celebrated as Vesak in South and Southeast Asia. The day commemorates birth, death as well as enlightenment of Lord Buddha, all of which is said to have taken place on same day. It is after this enlightenment that later Siddhartha earned the title Buddha which means 'The Enlightened One'.
Significance: Celebrating Buddha Purnima is all about praying with purest of feelings, and adopting what Buddhism stand for which is peace, harmony and non-violence.
Celebrations Worldwide
Nepal: is considered as Buddha's birth country. He was born in Lumbini (now in modern-day Nepal). There Buddha Purnima day is celebrated on full moon day of Vaisakha month in accordance to Buddhist calendar.
Southeast Asian Nations: celebrate day during Vaisakha month of Buddhist and Hindu calendar, which is generally the month of April or May according to Gregorian calendar.
Others:
On this day, Countries all over world such as Malaysia, Thailand, Sri Lanka, South Vietnam, Myanmar, China, Cambodia, Singapore, Indonesia, Taiwan, Australia,
Canada, United States (US) celebrate the essence of Buddhism. It is public holiday in many countries, and is celebrated by commemorating different ethnicities and cultures.
Celebrations India
It is celebrated by paying a visit to common Viharas (monastery for Buddhists), where Buddhists observe a longer than usual and full-length Buddhist sutra (or suttas), which is similar to a service.
17 May: Vesak Day
On 17 May 2019 United Nation (UN) observed "Vesak", the Day of the Full Moon in month of May.
In 1999, the UN General Assembly (UNGA), by its resolution 54/115, recognized internationally Day of Vesak, to acknowledge contribution of Buddhism in world.
Month: Current Affairs - May, 2019
Category: Important Days & Events Current Affairs
Topics: 2 • 563rd birth anniversary • Buddha Purnima • Buddhism • Gautama Buddha • Gregorian calendar • Hindu calendar • Lumbini • resolution 54/115 • UN General Assembly • United Nation • Vaishak Purnima • Vesak
Latest E-Books