150th birth anniversary of Lala Lajpat Rai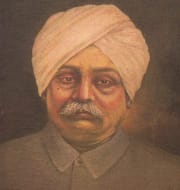 150th birth anniversary of great freedom fighter Lala Lajpat Rai, also known as Punjab Kesri is being celebrated 28th January 2016.
To celebrate this occasion a state level function has been organised in Punjab and special event will be held at village Dhudi Ke, the birth place of Lala Lajpat Rai in Moga district.
State government also has organised various seminars and symposia at many places in Punjab to remember Lala Lajpat Rai.
About Lala Lajpat Rai
He was born on 28 January 1865 in Dhudike (now Moga district) of Punjab.
He was lawyer by profession and had practiced his legal profession for few years but later curtailed it to focus on all his efforts to the freedom struggle.
He was popularly known as Punjab Kesari meaning The Lion of Punjab and also known as Sher-E- Punjab in Punjabi for his contribution to the freedom movement.
Freedom Movement: He was part of the Lal Bal Pal trio of assertive nationalists that included Lala Lajpat Rai, Bal Gangadhar Tilak, and Bipin Chandra Pal from 1905 to 1918.
Lal Bal Pal trio had advocated the Swadeshi movement involving the boycott of all imported items and the use of Indian-made goods in 1907 during the anti-Partition agitation in Bengal which began in 1905.
He was also associated with the foundation of Punjab National Bank in 1895 and later Lakshmi Insurance Company.
President of INC: In 1888 and 1889 he was a delegate to the annual sessions of Indian National Congress (INC) and was elected as its President in the Calcutta Special Session of 1920.
Social Work: In 1921, he had founded Servants of the People Society, a non-profit welfare organisation, in Lahore, which shifted based to Delhi after partition, and has branches in many parts of India.
Arya Samaj: He also had helped to establish the nationalistic Dayanand Anglo-Vedic School and became a follower of Dayanand Saraswati (founder of the Arya Samaj).
His books: As an author he had written many books which includes The Story of My Deportation (1908), Arya Samaj (1915), The United States of America: A Hindu's Impression (1916), Unhappy India (1928) etc.
Death: He died on 17 November 1928 after sustaining serious injuries in lathi charge carried by the police when he leading a non-violent protest against the Simon Commission.
Category: Art & Culture Current Affairs
Topics: Current Affairs 2016 • Events • History • Lala Lajpat Rai • Observances • Punjab
Latest E-Books