power sector in India
November 26, 2015
DELP programme has been launched in several states (Maharashtra, Rajasthan, Himachal Pradesh, Uttar Pradesh, Delhi) to replace the regular bulbs and CFL lights with LED lights. The programme is being implemented by  Discoms in association with Energy Efficiency Services Limited (EESL). LED lights are given at lower...
November 2, 2015
Ultra Mega Power projects (UMPP) are a series of ambitious power projects planned by the Government of India. Ultra Mega Power projects, each with a capacity of 4000 megawatts or above, are being developed.  The UMPPs are seen as an expansion of the MPP (Mega Power Projects)...
October 5, 2015
Union Government is planning to shut down 100 old power plants with capacities ranging from 60 to 220 MW and replace them with 30 critical units ranging between 660MW to 800MW. The old units are more than 25 years old. This will require an estimated expense of...
March 1, 2015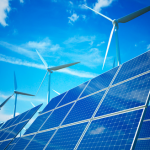 Why it is imperative to have self-sufficient energy infrastructure with the growing demand of energy? What are the measures India should take to utilize its vast natural resources?
November 2, 2012
Mega Power Policy was introduced in November, 1995 for providing impetus to development of large size power projects In the country and derive benefit from economies of scale. These guidelines were modified In 1998, 2001, 2006 and 2009 to rationalize the procedure for grant of mega certificate...
Advertisement