James Webb Space Telescope Current Affairs, GK & News
James Webb Space Telescope has concluded its final functional tests in California recently. This telescope, which is set to be launched this year, is part of an international programme involving the NASA, ESA and the Canadian Space Agency. It will be capable of viewing distant cosmic entities as well as helping in the better understanding of the universe's origin. The transmission would be between the Space Telescope Science Institute, Baltimore and Deep Space Network.
The European Space Agency announced that it would be putting 8 of its spacecrafts into 'hibernation' in light of the COVID-19 situation leading to a scaling down of operations. About ESA ESA or European Space Agency (also ASE) is an intergovernmental space research and exploration organisation established in 1975 by the ESA Convention. It has ..
Topics: COVID-19 • ESA • James Webb Space Telescope • NASA
NASA has detected three new planets in a nearby star system. These 3 planets – one slightly larger than Earth and two new planets – which are not similar to those found in the solar system. These planets fall in a varied gap of sizes of several planets and space researchers anticipate that these planets ..
Topics: James Webb Space Telescope • Planets • Rocket launch • Space Telescope • Tess
The Spitzer Telescope of National Aeronautics and Space Administration (NASA) will be switched off permanently on January 30, 2020. In its final leg of the operation, the Spitzer telescope is setting the stage for NASA's James Webb Space Telescope, set to launch in 2021. Spitzer Telescope was considered as a cousin of the Hubble Space ..
Topics: Hubble Space Telescope • James Webb Space Telescope • NASA • Spitzer Space Telescope
James Webb Space Telescope (JWST) is a planned (to be launched in 2018) space telescope optimized for observations in the infrared. It is the formal successor to the Hubble Space Telescope and the Spitzer Space Telescope. It has been in planning since 1996 and represents a collaboration of about 17 countries led by NASA, and ..
Topics: Astronomy • Goddard Space Flight Center • Great Observatories program • Hubble Space Telescope • In spaceflight • Infrared telescopes • James Webb Space Telescope • NASA RealWorld-InWorld Engineering Design Challenge • Space observatories • Spacecraft • Spitzer Space Telescope • Telescopes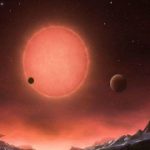 Astronomers have discovered yet another planet, called LHS1140b, which is expected to be present in the Goldilocks Zone. It's not so far away, either. It is found orbiting around the star LHS 1140 some 39 light-years away. Goldilocks Zone refers to a habitable zone where the temperature is neither too high nor too low. The ..
Month: Current Affairs - April, 2017
Topics: Exoplanet • Goldilocks Zone • Hubble Telescope • James Webb Space Telescope • NASA • Science and Technology