Russia- Belarus Military Drills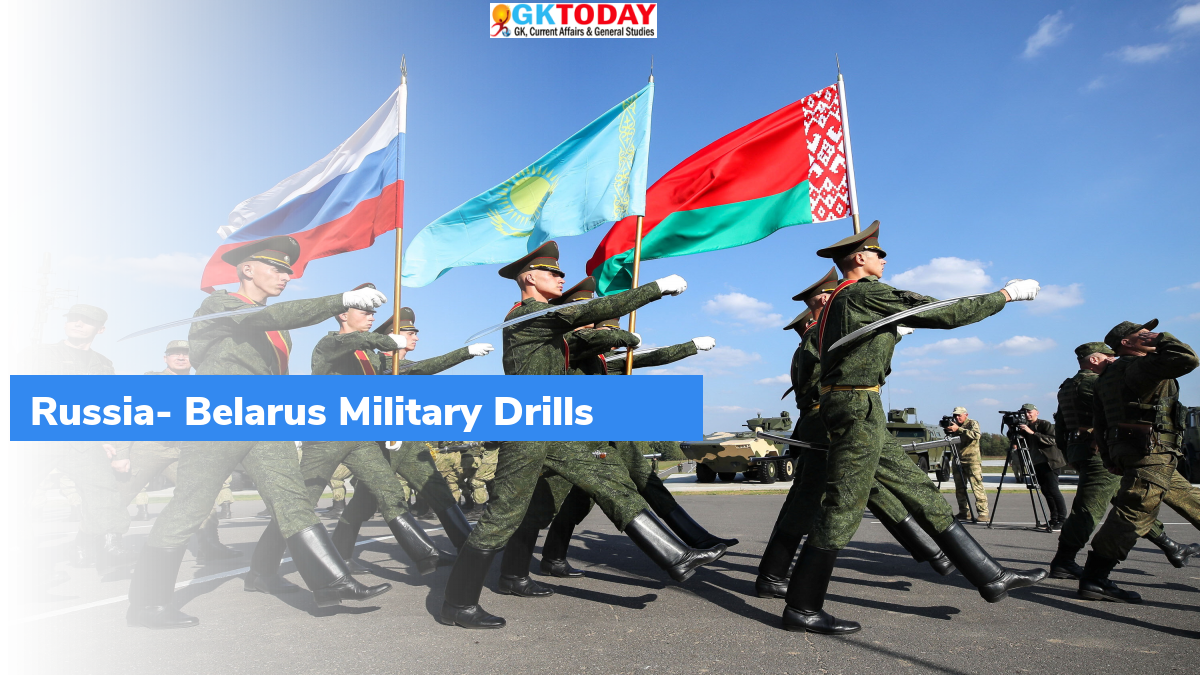 Russia and Belarus started joint military exercises near Belarusian border with Ukraine on February 10, 2022.
Key Facts
Military exercises started as a part of 10 days of drills. These exercises are seen as a significant element in Kremlin's menacing posture towards its neighbour.
Around 30,000 Russian troops and all of Belarusian armed forces, are taking part in the drills.
Forces have joined when Russia has amassed forces along its border with Ukraine as well in annexed Crimean Peninsula.
Several equipment for the drills travelled thousands of miles across Russia.
Russia's S-400 missile defence systems has been activated in Belarus, near border with Ukraine.
Ukraine's response
Ukraine responded with 10 days of drills of its own. Around 10,000 troops were involved in Ukraine's exercises. Ukraine's drills will feature Javelin anti-tank missiles which were recently provided by US to Kyiv and British NLAW anti-tank weapons.
Russia's missile tests in Black Sea
Russia is also preparing for missile tests in the Black Sea, which Ukraine says, will make shipping impossible in Black Sea as well as Sea of Azov.
Way forward to Russia-Ukraine conflict
French President Emmanuel Macron recently carried out a diplomatic mission to Moscow and Kyiv. According to him, a way forward for Russia-Ukraine could be found by implementing the Minsk agreements, which is a ceasefire deal of 2015.
What is Minsk Agreement?
Minsk agreement was written in 2014 by Trilateral Contact Group on Ukraine, comprising of Russia, Ukraine and Organization for Security and Co-operation in Europe (OSCE). It was writer with mediation by the leaders of Germany and France in Normandy Format. The agreement sought to end war in Donbas region of Ukraine. It followed several previous attempts to stop fighting in Donbas, but it failed to do so. Thus, on February 12, 2015, a new package of measures, Minsk II, was signed. But this too failed to improve the situation. However, Minsk II will remain basis for any future resolution on conflict.
Month: Current Affairs - February, 2022
Category: Defence Current Affairs • International / World Current Affairs