What are the worst stampede tragedies in India in recent years?
Stampedes are frequent in India due to poor crowd management and the way our public spaces such as temples, railway stations, bridges etc. are constructed. Every year, hundreds of people lose their lives due to stampedes, which generally occur at temples, railway stations and political rallies. The below graphics shows death by stampede in India for the last few years.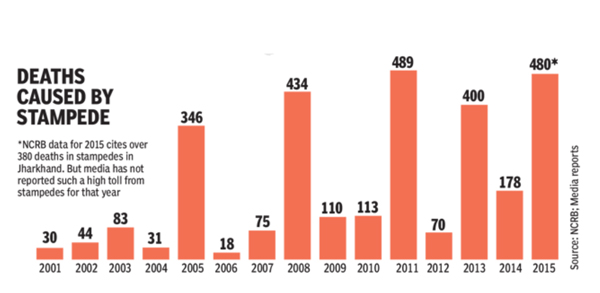 Some of the deadliest stampedes in India are shown in below graphics: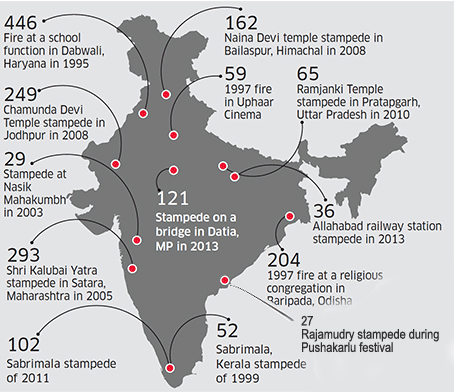 Rajahmundry stampede, July 2015
This stampede happed on the opening day of Pushkaralu festival on banks of Godavari river in Rajahmundry when the pilgrims rushed into the Puskhar ghat to take a holy dip. This resulted in death of 27 people.
Datia stampede, October 2013
This happened in 2013 October during Navaratri on a bridge near Ratangarh Mata temple in Datia District of Madhya Pradesh. 115 people lost live in this.
Sabarimala stampede, January 2011
The worst recorded accident happened at Sabarimala in Kerala on 14 January 2011, Makara Jyothi Day when a stampede triggered by toppling over of a jeep took as many as 106 lives.
Pratapgarh stampede, March 2010
Around 63 people were killed during a stampede at Ram Janki Temple in Uttar Pradesh. This incident was triggered when an unfinished gate of the temple fell, creating panic among the devotees gathered to collect free food and clothes on the death anniversary of wife of Kripalu Maharaj.
Rajasthan temple stampede, September 2008
This incident happened at Chamunda Devi temple of Jodhpur in Rajasthan claiming lives of 120 pilgrims.
Odisha Puri stampede, July 2008
Six people lost their lives during an stampede during Jagannath Yatra in Puri.
Himachal stampede, August 2006
In 2006, a shelter collapse triggered an stampede killing around 160 devotees at Naina Devi temple in Himachal Pradesh.
Maharashtra stampede, January 2005
At least 350 people were killed in a stampede at a religious fair at Mandher Devi temple in Satara district of Maharashtra.
Nashik stampede, August 2003
40 people lost life in a stampede that broke out at the Kumbh Mela at Nashik on August 27, 2003 near the holy Godavari river.
Kumbh Mela stampede, February 1954
This was one of the worst stampedes in India that claimed over 800 lives in Mahakumbh mela at Allahabad.
Chennai Flood Relief Centre stampede, 2005
This happened in December 2005 at an emergency flood-relief distribution centre in Chennai as the flood victims queued to receive food aid. Many people feel that the stampede could have been avoided had the state Government organised flood aid distribution on a regular basis at a number of locations, with police and public address systems to regulate the crowd.
Elphinstone Road railway station stampede, 2017
In the morning rush hour of September 29, the stampede at the footbridge on Elephantine Road railway station claimed 27 lives.
E-Book: 085 - Disaster and Disaster Management
Latest E-Books