"Pathways to Atmanirbhar Bharat" Report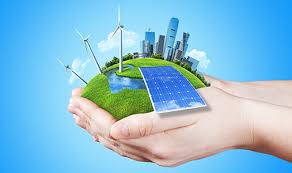 The study titled "Pathways to Atmanirbhar Bharat" was released recently by Lawrence Berkeley National Laboratory and The India Energy and Climate Center (IECC). According to this report, India has an opportunity to achieve energy independence by 2047 through investments in clean energy technologies.
Investing in Renewable Energy and EVs
The report highlighted Prime Minister Narendra Modi's Atmanirbhar Bharat push, which includes a target to install 500 GW of renewable energy capacity by 2030 and grow EV sales in India to capture a significant portion of the market. Additionally, the government aims to produce 5 million tonnes of green hydrogen by 2030.
Decarbonizing Indian Industry
Investment in renewables, electric vehicles, and green hydrogen will help move away from coal-based generation while reducing carbon emissions. Zero-carbon hydrogen will decarbonize Indian industry, cutting emissions and lowering dependence on imported fuel.
Heavy industrial production will shift primarily to green hydrogen and electrification, with 90 per cent of iron and steel, 90 per cent of cement, and 100 per cent of fertilizers produced by 2047. The transition to electric vehicles could save crude oil imports by over 90 per cent (or USD 240 billion) by 2047, while green hydrogen-based and electrified industrial production would reduce industrial coal imports by 95 per cent.
Clean Energy Deployment
A rapid expansion of clean energy infrastructure will be needed to support transport, industrial electrification, and green hydrogen production. Electricity demand could increase nearly five-fold – from 1,300 TWh/year to over 6,600 TWh/year by 2050. This would require a massive scale-up of renewable energy deployment to 40 GW a year through 2030, ramping up to about 100 GW a year between 2030 and 2050.
Policy Support for Clean Energy Transition
Achieving energy independence could offer environmental and public health benefits without compromising economic growth. With an aggressive clean energy transition, over 4 million air pollution-related premature deaths could be avoided between 2023-2047. The report suggests that the policy ecosystem needs five pillars: deployment mandates for commercial/cost-effective clean technologies that provide economies of scale, financial support for emerging technologies, long-term infrastructure planning, accelerating/scaling domestic manufacturing, and planning for a just transition.
Economically Advantageous Energy Independence
The report highlights that clean energy will reduce and inflation-proof India's energy expenditure as renewables, EV batteries, and hydrogen infrastructure are capital assets with rapidly falling costs. A shift to electric transportation will create USD 2.5 trillion in net consumer savings by 2047.
Tags: Aatmanirbhar Bharat • Clean Energy • Clean energy in India • New and Renewable Energy
Month: Current Affairs - March, 2023
Category: Reports & Indexes Current Affairs