DGFT Trade Facilitation App launched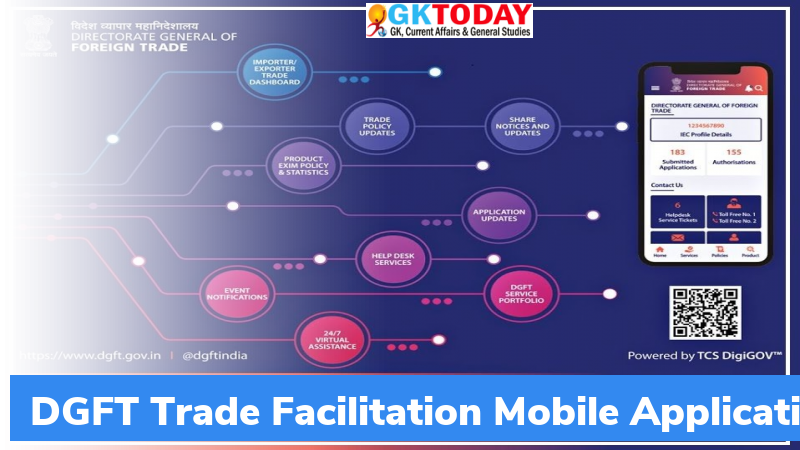 The Union Minister of Commerce and Industry Shri Piyush Goyal recently launched the DGFT Trade Facilitation Mobile Application. DGFT is Directorate General of Foreign Trade.
Key Features of DGFT
The DGFT Trade Facilitation application provides the following features :
Real-time trade policy updates and event notifications.
It provides options to explore Export-Import policies and statistics
Virtual Assistance to trade related queries
It provides access to all the services provided by DGFT.
Raise and track help requests in real time.
The application will be available on both iOS and Android platforms.
DGFT
DGFT is the government body that implements the foreign trade policy of India.
It promotes exports of India.
It operates under Ministry of Commerce and Industry.
It is headed by the Director-General. He or she is the head of Indian Trade Services.
DGFT was known as the Chief Controller of Imports and Exports till 1991.
DGFT was formed as a part of Economic Reforms in 1991 when the Liberalisation, Globalisation and Privatisation policies began in India.
It provides licenses to the import and export businesses in India.
It holds complete data about the importers and exporters in the country.
It provides EIC number. EIC is Exporter Importer Code. It is a ten-digit number that is needed for all people conducting import or export business in the country.
It regulates and permits the transit of goods between India and its neighbours according to the bilateral agreements.
It controls the DEPB rates. DEPB is Duty Entitlement Pass Book. It is an export incentive scheme of Government of India.
Month: Current Affairs - April, 2021