Daily UPSC Prelims Current Affairs – May 11-12, 2023 [Mock Test]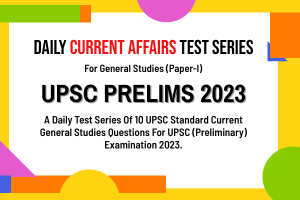 1.
Consider the following erosional process by wind:
Deflation: is the removal of loose particles from the surface of rocks.
Abrasion: is the frictional movement of sand particles within itself.
Attrition: is the scraping of particles from the rock surface.
Which of the above is/are explained correctly?
2.
Which of the following are the depositional landforms formed by Wind?
Ripples
Zeugen
Seif
Yardangs
Loess
Choose the correct answer using the codes given below:
3.
Consider the following rivers:
Narmada
Mahi
Luni
Tawa
Sharavathi
Which of the above are west flowing rivers that drain into the Arabian Sea?