Sheikh Hasina meets PM Modi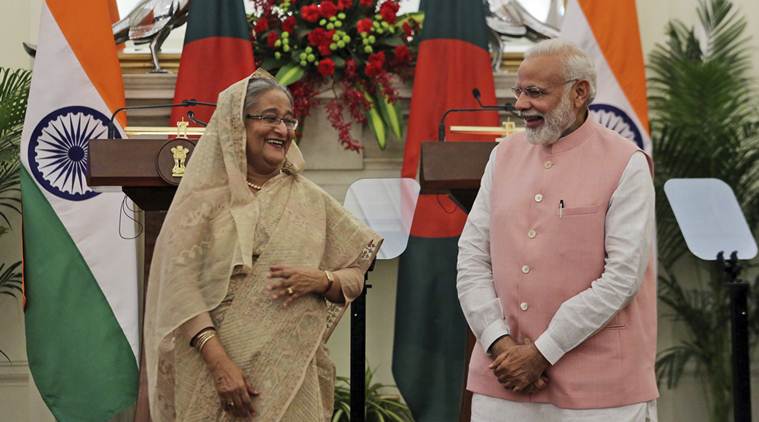 PM Modi held meeting with the Bangladesh PM Sheikh Hasina at Hyderabad House. The leaders jointly inaugurated 3 projects and signed seven agreements during the meeting.
The issues of Teesta water sharing and Rohingya were also discussed. The issue of NRC was not of focus in the talks.
Highlights
It is the second meeting of the leaders in 10 days. Earlier they met at the UNGA in New York.
The talks focused on bilateral cooperation between the countries
3 projects related to LPG imports, social facilities and vocational training were inaugurated. The leader signed 7 agreements on trade, development, connectivity, cooperation, culture and mutual contact between the people.
Onion a source of Friction?
On 29th September, 2019, the Indian Government banned onion exports and imposed stock limits on vegetables. This has become an irritant between the bilateral relations between India and Bangladesh.
Speaking at the India Bangladesh business forum Bangladesh PM claimed for an early warning.
India's onion exports fell by 10.7%. Malaysia, UAE, Sri Lanka are the other top onion importers from India.
India Bangladesh trade
The trade between the countries has grown significantly in the last decade. In 2016 – 17, India exported 4489 million USD worth goods. India imported 672.4 million USD worth goods the same year.
Since 2011, India offers duty free access to Bangladesh to all tariff lines except alcohol and tobacco under SAFTA (South Asian Free Trade Agreement)
River sharing
India and Bangladesh share 54 rivers in common. A bilateral JRC – Joint River Commission is working since 1972 to maximize the benefits from these rivers.
Teesta river issue
Teesta flows through West Bengal and Sikkim before draining into Bay of Bengal. In 1983, India and Bangladesh signed an Ad – Hoc agreement that was valid till 1985. According to the agreement India will use 39% and Bangladesh will use 36% of Teesta waters. In 1998, Bangladesh started the "Teesta Barrage" irrigation project under which 3 crops were cultivated in a year.
In 2011, GoI proposed an agreement by which India will use 42.5% and Bangladesh will use 37.5% during the lean season. The plan was shelved opposition from Sikkim and West Bengal Governments. Many glaciers of Teesta river are retreating. The lean season of the river is between October and April for which the problem now persists.
Month: Current Affairs - October, 2019
Category: International Current Affairs
Topics: bilateral agreement • Bilateral Visit • India Bangladesh relations • India Economic Summit • PM Modi • river sharing • Rohingyas • teesta
Latest E-Books