Integral Coach Factory launches first stainless steel bodied MEMU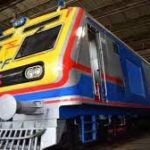 The Integral Coach Factory (ICF) for first time has rolled out three phase energy efficient eight car Mainline Electric Multiple Unit (MEMU) train set built with stainless steel bodies in Chennai, Tamil Nadu. MEMU is suburban train system that caters to needs of medium distance inter-city passengers.
Key Facts
Rake formation: The stainless steel MEMU consists of eight coaches — two driving motor coaches (DMC) at both ends with seating capacity of 55 passengers and standing capacity of 171 passengers (total 226 passengers) in each coach and six trailer coaches (TC) with seating capacity of 84 passengers and standing capacity of 241 (total 325 passengers) in each coach. Thus, total carrying capacity of this stainless steel MEMU rake is 2402 passengers.
Key Features: The MEMU is manufactured with stainless steel coach body and has aerodynamically shaped stainless steel front end nose for reduced air resistance, thereby saving in energy. It runs on self-propelled 25 kv AC Overhead Traction, supported by Regenerative braking system. It saves energy consumption up to 35% as compared to conventional EMU and MEMU trains. Its maximum speed is 110kmph
It has additional features like CCTV installed in each coaches for enhanced passenger safety. In addition, it has GPS based Passenger Information System (PIS) and Passenger Address System (PAS) in its all coaches. Even its loco pilot cabin also has been provided with CCTV cameras. Moreover, its every coach has been provided with modular toilets.
Integral Coach Factory (ICF)
ICF is manufacturer of rail coaches located in Chennai, Tamil Nadu. It was established in 1952. It is owned and operated by Indian Railways. It primarily manufactures rolling stock for Indian Railways and also exports railway coaches to other countries including Thailand, Myanmar, Taiwan, Zambia, Philippines, Tanzania, Uganda, Vietnam, Nigeria, Mozambique, Bangladesh, Angola and Sri Lanka. It employs about 11,095 people and manufactures about 2000 coaches per year.
Month: Current Affairs - June, 2018
Topics: Integral Coach Factory • Mainline Electric Multiple Unit • MEMU Train • Science and Technology
Advertisement