122-Foot-Tall Polo Player Statue Unveiled in Manipur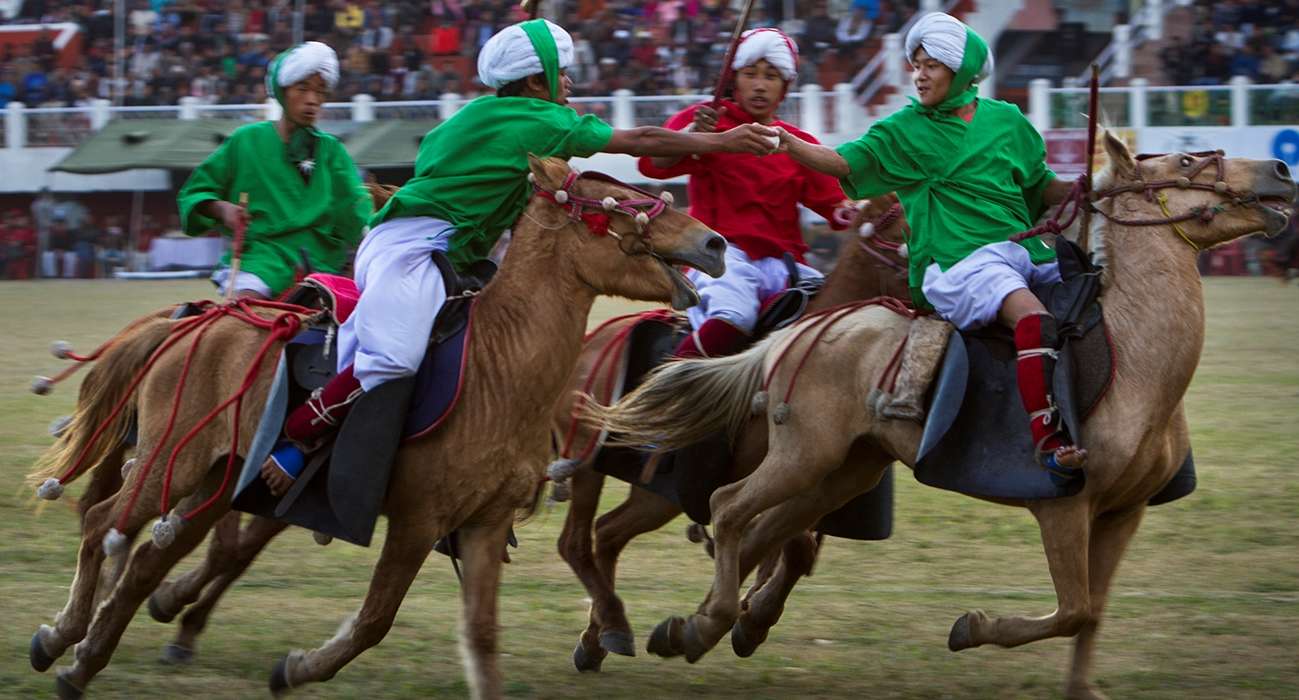 Recently, a 122-foot-tall statue of a polo player astride a Manipur Pony was unveiled in Imphal, Manipur as part of Home Minister Amit Shah's programme in the state. The Marjing Polo Complex, which has been in the works for several years, aims to conserve the Manipur Pony breed, which is indigenous to the region and holds significant cultural importance for Manipuri society.
Polo Game Sagol Kangjei Originated in Manipur
Modern polo is believed to have originated from Sagol Kangjei, a sport indigenous to Manipur in which players ride the Manipur Pony. Shah tweeted about the inauguration of the Marjing Polo Complex, stating, "It is believed that Sagol Kangjei, the modern-day Polo game originated in Manipur. Today, inaugurated a 122 feet Marjing Polo Complex in Imphal. This will surely take the legacy forward and inspire more youngsters toward the game." The Marjing Polo Complex and the unveiling of the statue are meant to inspire more young people to take up the sport and continue the legacy of Sagol Kangjei.
Manipur Pony Numbers Dwindling
The small and dwindling numbers of the Manipur Pony have been a cause for concern. The 17th Quinquennial Livestock Census in 2003 recorded 1,898 Manipur Ponies; this number fell to 1,101 in the 19th Quinquennial Livestock Census in 2012. When the Manipuri Pony Society conducted a survey in the state in 2014, they found it difficult to count even 500 of the animals. "There were some remote parts we could not reach, so I can say that at most there might be around 600," said N Ibungochoubi, writer and secretary of the Manipur Equestrian Association. The Marjing Polo Complex aims to conserve the Manipur Pony breed and has been developed as a way to do so.
Development of Marjing Pony Sanctuary as Tourist Destination
While the unveiling of the 122-foot-tall statue and the development of the Marjing Polo Complex have been met with excitement, some have expressed scepticism about the development of the Marjing Pony Sanctuary as a tourist destination. Despite this, the inauguration of the statue and the opening of the Marjing Polo Complex highlight the cultural significance of both polo and the Manipur Pony in the state of Manipur.
Tags: Conservation • Horse Racing • Manipur • Marjing Polo Complex • Polo
Month: Current Affairs - January, 2023
Category: States Current Affairs